Demand-driven replenishment (DD) helps you efficiently plan and manage supply chains based on customer demand, rather than through traditional MRP procedures. It forms the basis for a reliable material flow by defining buffers at strategically important points and adjusting these buffers regularly.
Dedicated apps provide views for replenishment planning and execution. With replenishment planning, an overview of the buffer information sorted by planning priority is shown. With this, you can trigger replenishment on time to avoid stock shortages and delays in the completion of production or sales orders due to insufficient stock. With replenishment execution, you can view the current stock situation for each product and check that sufficient on-hand stock is available for production. You can expedite replenishment directly, and by using readily available contact details, such as contacting the supplier of a purchase order or the production supervisor of the component production order.
Key Process Steps Covered
Replenishment Planning:
Review replenishment planning status of buffered components
Create demand for buffered component via finished good (optional)
Create supply for buffered component after change of planning status
Replenishment Execution:
Review replenishment execution status of buffered components after conversion of supply into production execution
Reduce on-hand stock to stimulate replenishment need (optional)
Expedite supply and run production execution to bring replenishment execution status to green
Benefits
Avoid the bull-whip effect in production by providing decoupling points with strategic stock positions
Ensure highest service levels at lowest possible inventory along all BOM levels
Relieve users of manual supply creation for demand-driven materials
Support user in identifying issues with current stock levels and in prioritizing the issues as a starting point for taking the right action
---
Where is Demand-Driven Replenishment Planning and Execution(2QI) being used?
This Scope item is used in the following way:
As a management function of Extended Production Planning and Scheduling within Manufacturing Scope Item Group
---
Process flow of Demand-Driven Replenishment Planning and Execution (2QI)
Find below the process flow of the scope item Demand-Driven Replenishment Planning and Execution as it is defined for release S4H-OP-2009.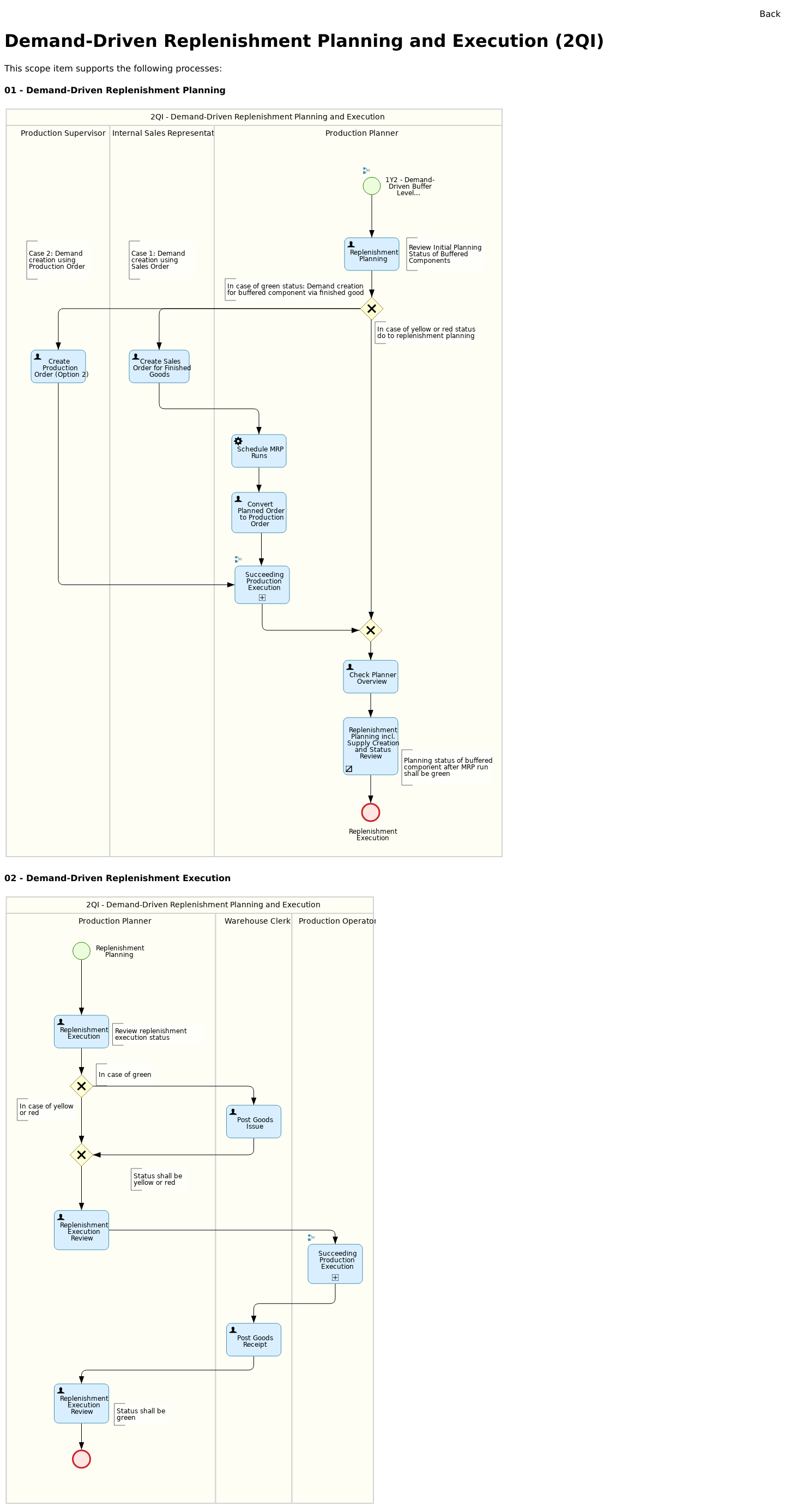 ---
Ref: Manufacturing of S4H-OP-2009
---
Best Practices related to S/4HANA
Best Practices of Robotics Process Automation(RPA) with SAP Leonardo *2
*1) Yearly Updates are released per September of each year
*2) The Quarterly updates are released per Februari, May, August and November
Details of future releases can be found in the SAP Roadmap section of each product. Go to SAP Roadmap Product Finder.
---
Knowledge Center Scheer Nederland | The Process Experts