This scope item enables the storage tank management process, which supports the procurement of a new batch into the day tank and then mixing of this new batch with an existing batch in the main tank with a special mixing process order type. Quality inspection, results recording, and usage decision are performed both on the externally procured batch and the batch after mixing.
The characteristics of storage tank management are:
Separate storage locations are created for day tank and main tankAn existing batch is already available on the main tankOnly one batch can normally be managed on these storage tanksBatch determination at order level
Key Process Steps Covered
Initialize stock of Batch #1
Create purchase order to procure Batch #2
Receive goods from Batch #2 into day tank from vendor
Get a stock overview of batches
Monitor inspection lots
Record inspection results
Record usage decisions
Display batch characteristic values of Batch #2
Create process order for mixing
Create process order confirmation
Record results
Benefits
Get a controlled process for mixing two batches of a material
Get availability of a dedicated process order type to manage inbound storage tank mixing process
---
Where is Inbound Storage Tank Management – Process Manufacturing(3UK) being used?
This Scope item is used in the following way:
As a core function of Production Operations within Manufacturing Scope Item Group
---
Process flow of Inbound Storage Tank Management – Process Manufacturing (3UK)
Find below the process flow of the scope item Inbound Storage Tank Management – Process Manufacturing as it is defined for release S4H-OP-2009.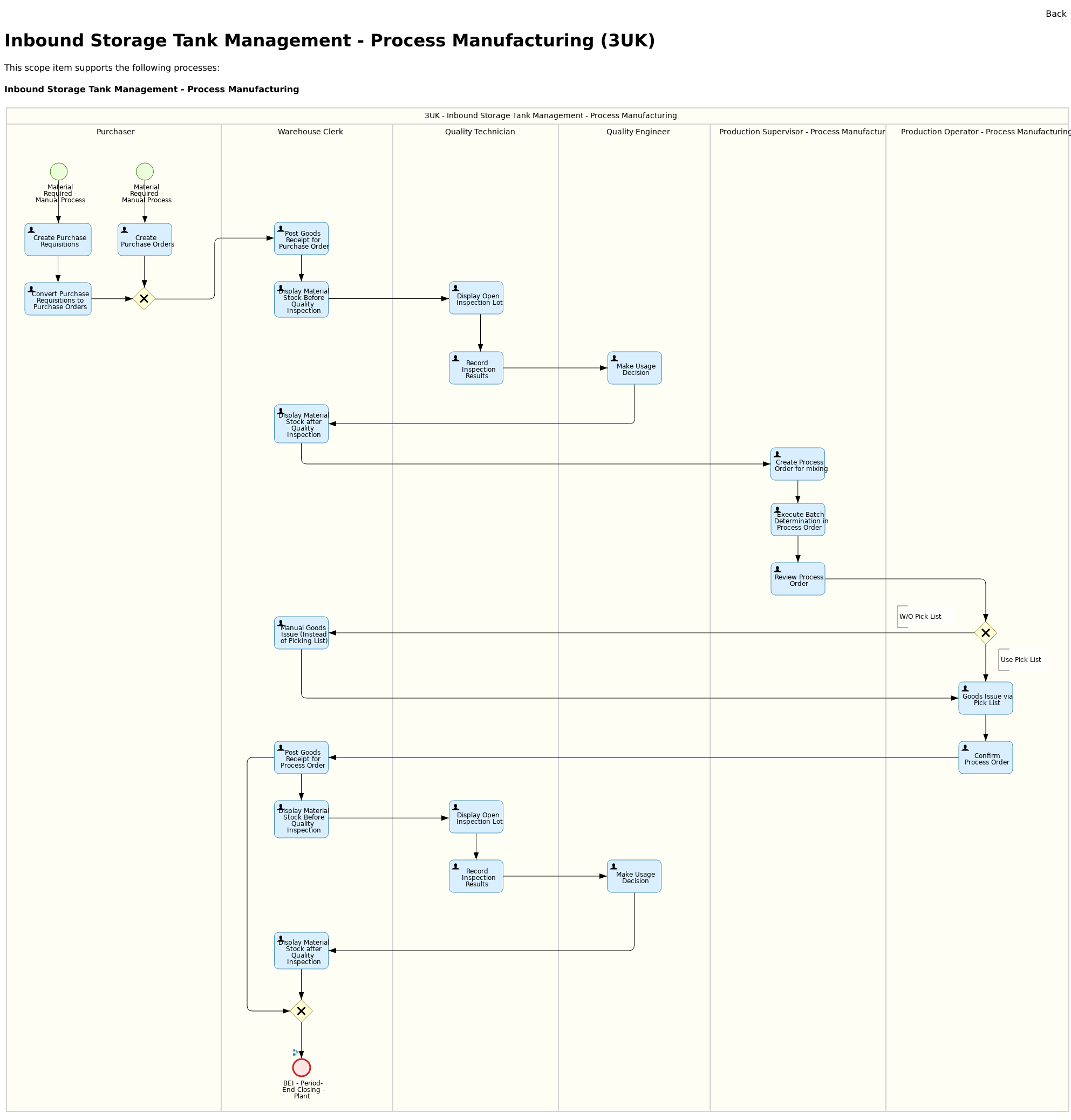 ---
Ref: Manufacturing of S4H-OP-2009
---
Best Practices related to S/4HANA
Best Practices of Robotics Process Automation(RPA) with SAP Leonardo *2
*1) Yearly Updates are released per September of each year
*2) The Quarterly updates are released per Februari, May, August and November
Details of future releases can be found in the SAP Roadmap section of each product. Go to SAP Roadmap Product Finder.
---
Knowledge Center Scheer Nederland | The Process Experts