The process starts with receiving Just-In-Time (JIT) calls from customers. 
JIT calls are sent via an Electronic Data Interchange (EDI) integration and contain the component details with the requirements date and time. The Material Planner (JIT Supply) monitors and manages the JIT calls from customers.
The production planner releases production-relevant component group materials for summarized JIT calls or production-relevant package units for sequenced JIT calls for production.
The production operator then confirms the production of the component groups.
The Shipping Specialist (JIT Supply) creates deliveries on open JIT calls, with status reflected accordingly. Advanced shipping notifications are sent via EDI to the OEM. The shipping specialist can also create handling units for summarized JIT calls.
After picking and posting of goods issue, the JIT call status is updated accordingly. Optionally, for summarized JIT calls picking and post goods issue can also be done in EWM. 
After the billing is created, the JIT call is updated to completed status.
Key Process Steps Covered
Create Just-In-Time (JIT) calls
Manage JIT calls
Monitor JIT calls
Release JIT calls to production
Confirm JIT calls from production
Create delivery from JIT calls (sequenced/summarized)
Reorder process of JIT calls (before and after delivery)
Integrate with handling unit and EWM for summarized JIT calls
Execute picking
Post goods issue
Send advance shipping notice
Create billing document
Send invoice
Benefits
Support the business process for Just-In-Time supply to customers
Enable the visibility of fulfillment progress and alerts based on processing errors
Support the business process for in-house repetitive manufacturing production
Help process the supply efficiently
Provide flexibility through configuration and extensibility
Support integration with handling unit management and EWM for summarized JIT calls
Enable analytical capabilities to manage demand, stock, and materials
---
Where is Just-In-Time Supply to Customer(2EM) being used?
This Scope item is used in the following way:
As a core function of Production Operations within Manufacturing Scope Item Group
---
Process flow of Just-In-Time Supply to Customer (2EM)
Find below the process flow of the scope item Just-In-Time Supply to Customer as it is defined for release S4H-OP-2009.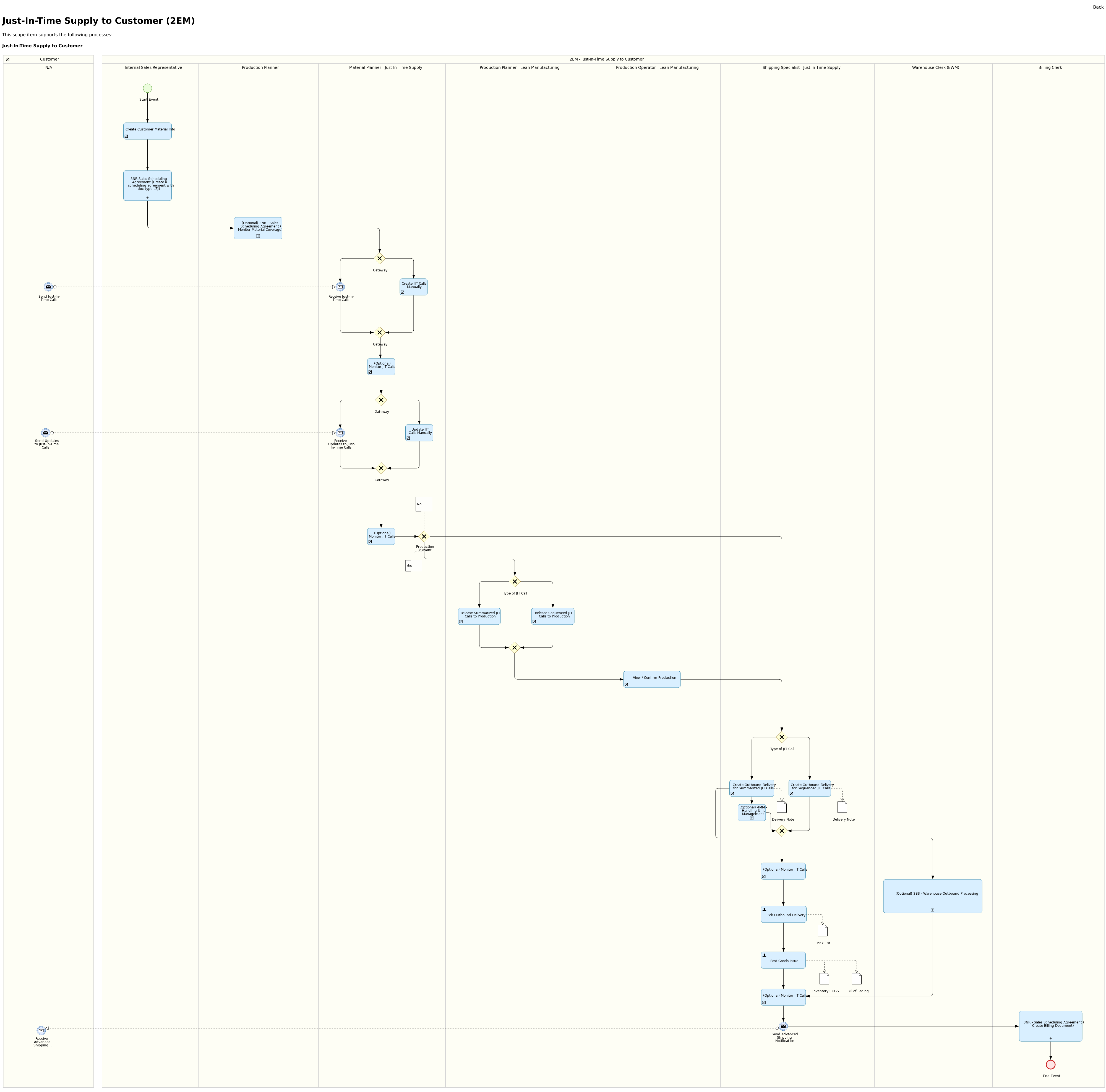 ---
Ref: Manufacturing of S4H-OP-2009
---
Best Practices related to S/4HANA
Best Practices of Robotics Process Automation(RPA) with SAP Leonardo *2
*1) Yearly Updates are released per September of each year
*2) The Quarterly updates are released per Februari, May, August and November
Details of future releases can be found in the SAP Roadmap section of each product. Go to SAP Roadmap Product Finder.
---
Knowledge Center Scheer Nederland | The Process Experts