The standard sales process (make-to-order) for batch-managed finished goods starts with a customer quotation or sales order and ends with the clearing of a customer account after a payment has been received. 
The process starts with the creation of a quotation and then a sales order with reference it, or by creating a sales order directly.
The production process based on process orders is triggered by a material requirement planning (MRP) run for the product ordered by the customer and all its components. Once the finished product with a batch is in stock, the delivery and billing of the goods completes the process.
The process can be enhanced by executing optional steps, such as procurement of components or period-end closing.
Key Process Steps Covered
Create quotation for customer
Create referenced sales order from the quotation
Plan and execute the production process with process orders
Deliver the produced goods
Bill customer based on billing plan from sales order
Benefits
Plan production in a make-to-order scenario based on customer sales order
Drive production of customer requirements using process orders
---
Where is Make-to-Order Production – Process Manufacturing(3OK) being used?
This Scope item is used in the following way:
As a core function of Production Operations within Manufacturing Scope Item Group
---
Process flow of Make-to-Order Production – Process Manufacturing (3OK)
Find below the process flow of the scope item Make-to-Order Production – Process Manufacturing as it is defined for release S4H-OP-2009.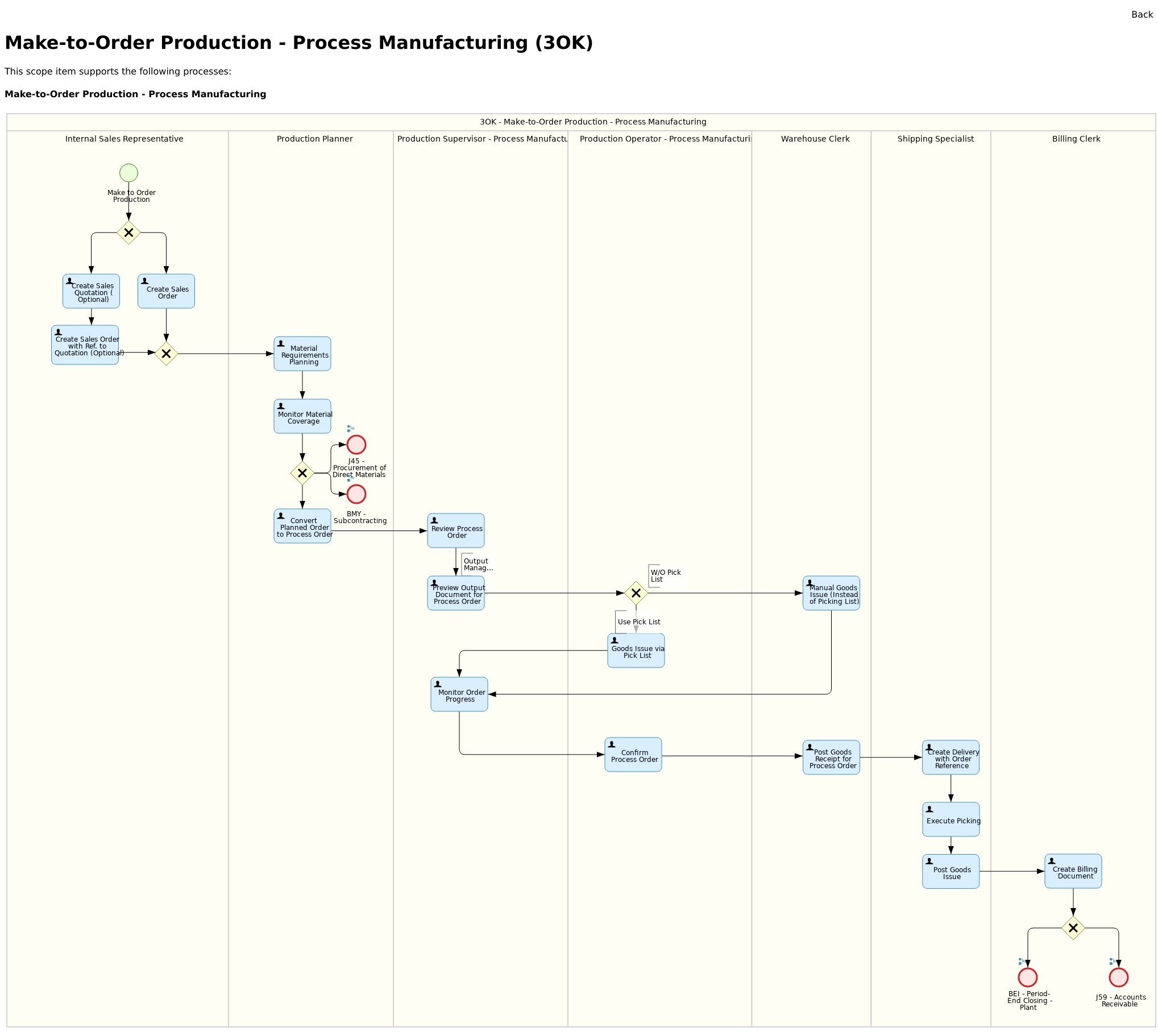 ---
Ref: Manufacturing of S4H-OP-2009
---
Best Practices related to S/4HANA
Best Practices of Robotics Process Automation(RPA) with SAP Leonardo *2
*1) Yearly Updates are released per September of each year
*2) The Quarterly updates are released per Februari, May, August and November
Details of future releases can be found in the SAP Roadmap section of each product. Go to SAP Roadmap Product Finder.
---
Knowledge Center Scheer Nederland | The Process Experts