This scope item supports production planning for semifinished components within a Make-to-order (MTO) environment before the receipt of incoming sales orders. This reduces the lead time of sales orders for finished goods received that are received later.
Demand forecast is created for semifinished components that are represented through planned independent requirements (PIRs). Based on PIRs, Material Requirements Planning (MRP) creates a production plan for the component and explodes the bill of material structure for higher low-level codes. As a result, the demand for semifinished component production and raw material is planned.
The production process is made up of the following: Conversion of planned into production orders, order release, confirmation of order operations with automatic backflush of components, and goods receipt posting.
The scenario is completed with the receipt of an incoming sales order and either the consumption of the component part of this scope item, or by reference to the entire MTO scenario in the BJE scope item.
Key Process Steps Covered
Manage demand forecast for semifinished products as Planned Independent Requirements (PIRs)
Schedule MRP run
Start production for semifinished product before incoming sales orders
Consume PIRs and stock of semifinished product in sales orders
Benefits
Reduce total lead time in make-to-order production scenarios
Create purchase requisitions for raw materials early
Produce semifinished products early
Improved usability with intuitive confirmation of production operations
---
Where is Make-to-Order Production – Semifinished Goods Planning and Assembly(1BM) being used?
This Scope item is used in the following way:
As a core function of Production Operations within Manufacturing Scope Item Group
As a core function of Production Planning within Manufacturing Scope Item Group
---
Process flow of Make-to-Order Production – Semifinished Goods Planning and Assembly (1BM)
Find below the process flow of the scope item Make-to-Order Production – Semifinished Goods Planning and Assembly as it is defined for release S4H-OP-2009.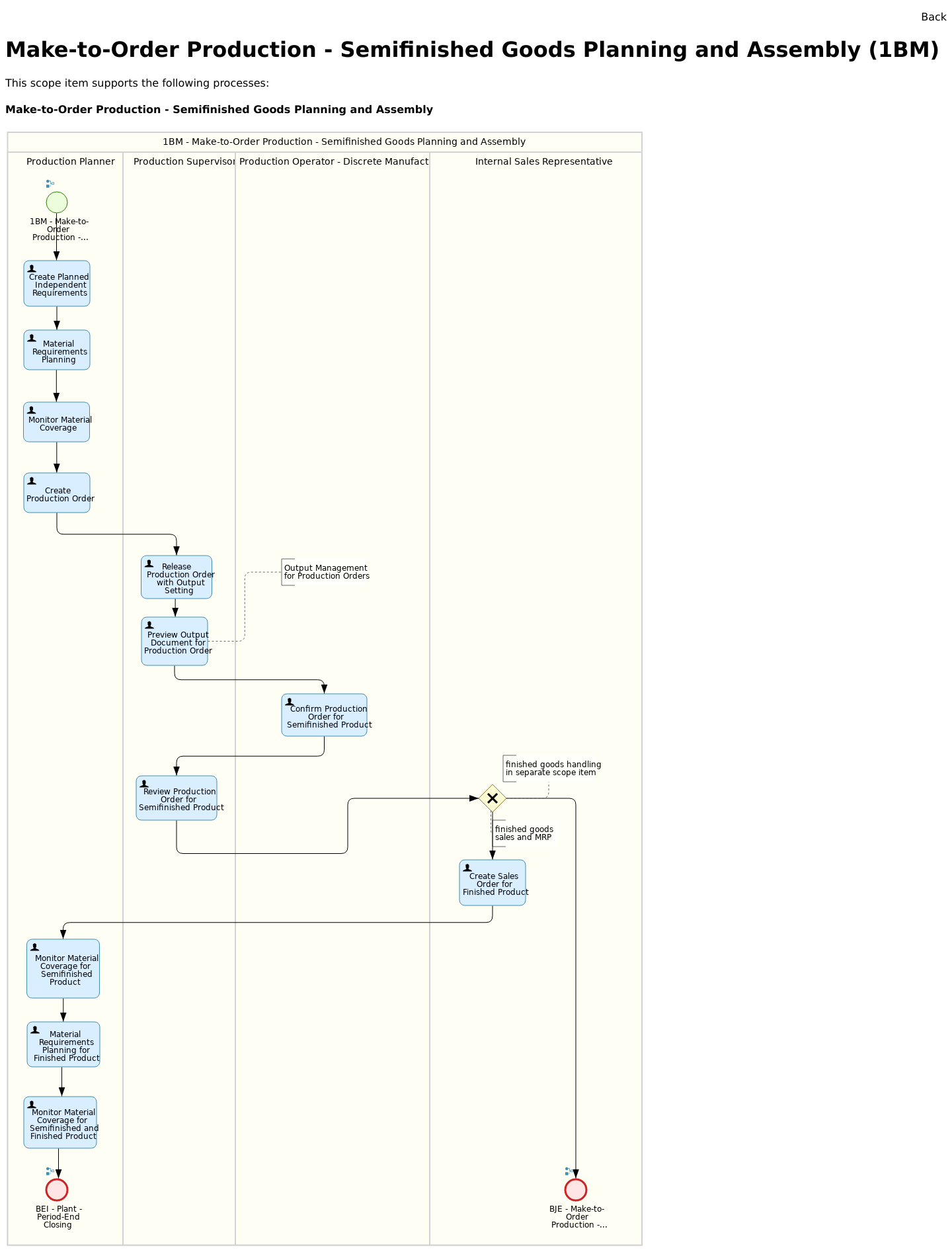 ---
Ref: Manufacturing of S4H-OP-2009
---
Best Practices related to S/4HANA
Best Practices of Robotics Process Automation(RPA) with SAP Leonardo *2
*1) Yearly Updates are released per September of each year
*2) The Quarterly updates are released per Februari, May, August and November
Details of future releases can be found in the SAP Roadmap section of each product. Go to SAP Roadmap Product Finder.
---
Knowledge Center Scheer Nederland | The Process Experts