This scope item enables production planning in make-to-stock scenarios for a serial number managed finished good.
The process starts with the creation of a demand forecast for finished goods represented by Planned Independent Requirements (PIRs). Based on PIRs, Material Requirements Planning (MRP) creates a production plan for finished goods and explodes the entire bill of material structure. As a result, semifinished component production and raw material demand is planned. Production planners can analyze and manually change the planned order-based production plan.
Raw material demand leads to purchase requisitions that trigger alternative procurement scenarios referenced in this scope item.
The production process itself is entirely covered by using the conversion of planned into production orders, order release, material staging and picking, confirmation of order operations, and goods receipt posting. Order-based target and actual cost is created, ensuring fully integrated material and value streams.
Key Process Steps Covered
Process planned independent requirements
Execute material requirements planning and evaluation of stock requirement list
Execute production order processing: Material staging, order release, order confirmation, material movement postings for goods issue and goods receipt incl. Available-to-Promise checks
Run scrap reports optionally after production
Benefits
Trigger production execution with a production plan
Explode the bill of material automatically when running the material requirements planning
Calculate target costs during order creation
Improve usability with intuitive confirmation of production operations
---
Where is Make-to-Stock Production – Discrete Manufacturing(BJ5) being used?
This Scope item is used in the following way:
As a core function of Production Operations within Manufacturing Scope Item Group
As a core function of Production Planning within Manufacturing Scope Item Group
---
Process flow of Make-to-Stock Production – Discrete Manufacturing (BJ5)
Find below the process flow of the scope item Make-to-Stock Production – Discrete Manufacturing as it is defined for release S4H-OP-2009.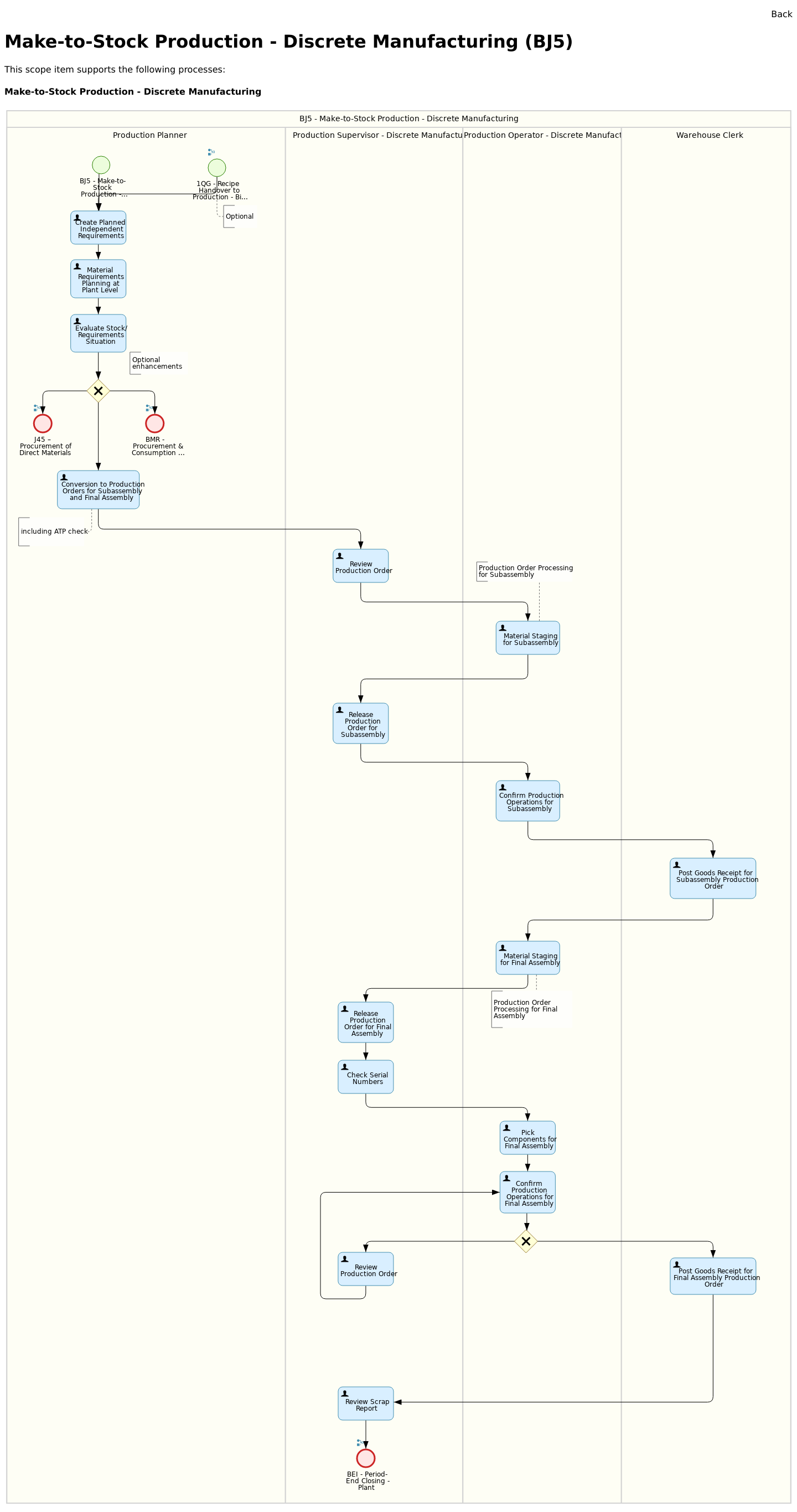 ---
Ref: Manufacturing of S4H-OP-2009
---
Best Practices related to S/4HANA
Best Practices of Robotics Process Automation(RPA) with SAP Leonardo *2
*1) Yearly Updates are released per September of each year
*2) The Quarterly updates are released per Februari, May, August and November
Details of future releases can be found in the SAP Roadmap section of each product. Go to SAP Roadmap Product Finder.
---
Knowledge Center Scheer Nederland | The Process Experts