Repetitive Manufacturing is commonly used when a production process meets the following criteria:
The same or similar products are produced over a lengthy period. The products produced are not manufactured in individually defined lots. Instead, a total quantity is produced over a certain period at a certain rate. The items produced always follow the same sequence through the machines and work centers in production. Routings tend to be simple and do not vary greatly.
This scenario starts with Planned Independent requirements (PIR). These are used to perform demand management functions. Material Requirements Planning (MRP) generates planned orders for the material to be produced. By using the planning table, planning the production of materials and capacity on the production lines can be completed. The confirmation of Repetitive Manufacturing triggers multiple activities, such as finished product goods receipt, backflush of component materials, and posting of costs to cost collector.
Key Process Steps Covered
Creation of planned independent requirements
Planning of material requirements at plant level
Adjustment of planning in planning table
Checking range of stock coverage
Material staging
Confirmation of assembly activities and repetitive manufacturing backflush
Post processing of error records
Benefits
Make-to-stock production based on run schedules without reference to sales orders
Simplified handling of the production process with full cost control
Confirmation of assembly activities without using production or process orders
---
Where is Make-to-Stock Production – Repetitive Manufacturing(BJH) being used?
This Scope item is used in the following way:
As a core function of Production Operations within Manufacturing Scope Item Group
As a core function of Production Planning within Manufacturing Scope Item Group
---
Process flow of Make-to-Stock Production – Repetitive Manufacturing (BJH)
Find below the process flow of the scope item Make-to-Stock Production – Repetitive Manufacturing as it is defined for release S4H-OP-2009.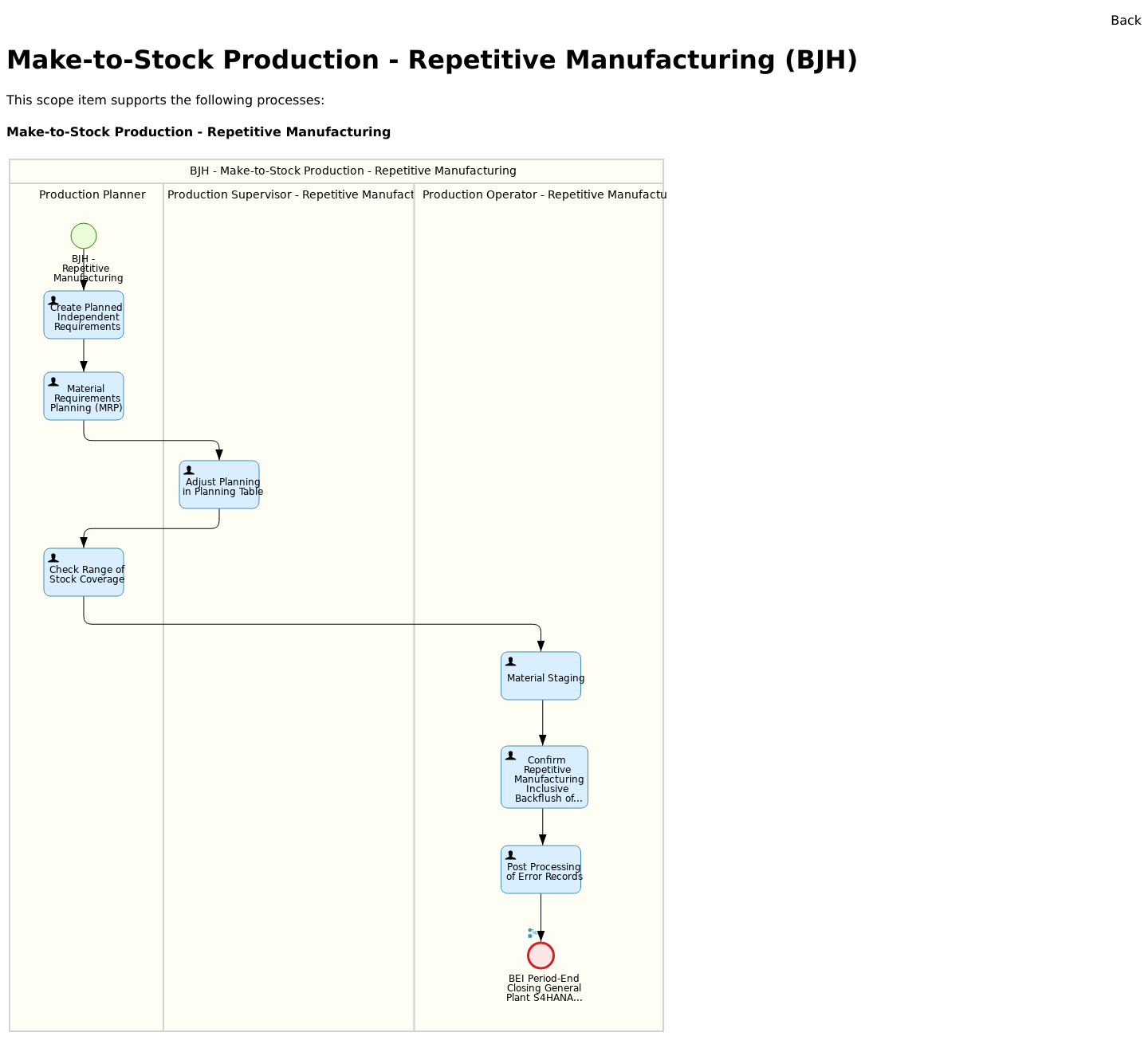 ---
Ref: Manufacturing of S4H-OP-2009
---
Best Practices related to S/4HANA
Best Practices of Robotics Process Automation(RPA) with SAP Leonardo *2
*1) Yearly Updates are released per September of each year
*2) The Quarterly updates are released per Februari, May, August and November
Details of future releases can be found in the SAP Roadmap section of each product. Go to SAP Roadmap Product Finder.
---
Knowledge Center Scheer Nederland | The Process Experts