The Kanban method for controlling production and material flow is based on the actual stock quantity in production. With Kanban, instead of being pushed through production by higher-level planning, materials are called from the supply source by production at the manufacturing level where they're needed (pull principle). Replenishment or production of a material is only triggered when a higher production level requires the material. This replenishment is triggered directly in production using previously maintained master data.
Kanban replenishment is commonly used in – but not restricted to – repetitive manufacturing environments, when a production process requires that the same or similar products are produced over a certain period at a certain rate per period. The products produced always follow the same sequence through the machines and work centers in production. Routings tend to be simple and don't vary much.
Key Process Steps Covered
Create and maintain Kanban control cycles
Create independent planning and material requirements at plant level
Practice classic Kanban container replenishment with planned and production orders
Benefits
Reduce work in progress
Increase supply chain visibility
Reduce manufacturing supply chain costs
Reduce inventory and assets
Improve flexibility and visibility of manufacturing and supply chain processes
---
Where is Material Replenishment with Kanban – In-House Production(4B3) being used?
This Scope item is used in the following way:
As a core function of Production Operations within Manufacturing Scope Item Group
---
Process flow of Material Replenishment with Kanban – In-House Production (4B3)
Find below the process flow of the scope item Material Replenishment with Kanban – In-House Production as it is defined for release S4H-OP-2009.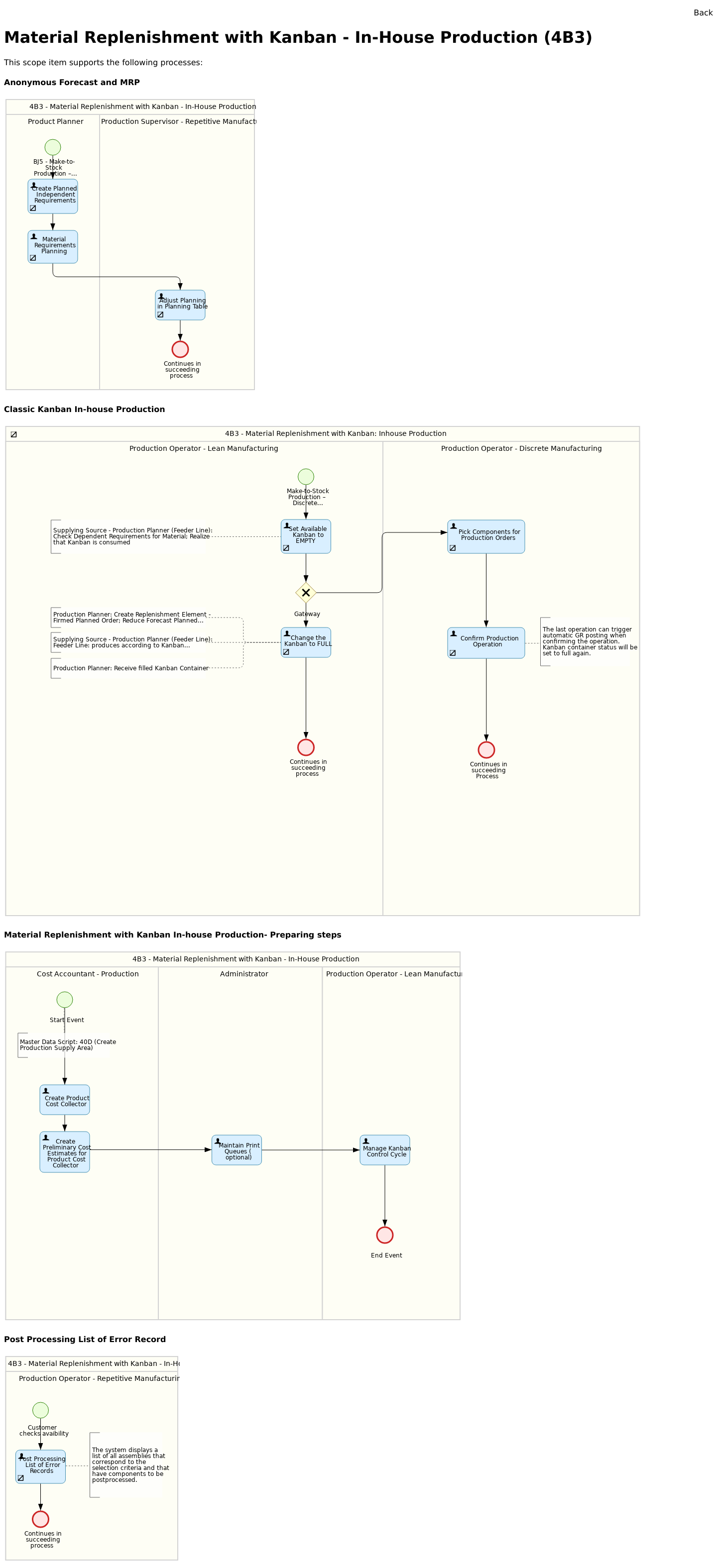 ---
Ref: Manufacturing of S4H-OP-2009
---
Best Practices related to S/4HANA
Best Practices of Robotics Process Automation(RPA) with SAP Leonardo *2
*1) Yearly Updates are released per September of each year
*2) The Quarterly updates are released per Februari, May, August and November
Details of future releases can be found in the SAP Roadmap section of each product. Go to SAP Roadmap Product Finder.
---
Knowledge Center Scheer Nederland | The Process Experts