This process enables your material requirements planning (MRP) department to automate the procurement planning. The main function of material requirements planning is to guarantee material availability and to avoid delays in order fulfillment. The planning run checks availability of each material and, in case of shortages, creates purchase requisitions or delivery schedules if a scheduling agreement exists. Remaining shortages are displayed in the MRP app where the material planner can analyze the situation.
Procurement lead time can be longer than the time available to fulfill a demand. For this reason, you must procure the material in advance and cover your demand from stock. This process starts by creating forecast demands that are interpreted as expected customer demand. The MRP schedule runs. The system creates purchase requisitions or scheduling lines that trigger external procurement.
Optionally, purchase requisition hand over and MRP material exceptions can be handled.
Key Process Steps Covered
Manage demand forecast as Planned Independent Requirements (PIRs) manually
Calculate from consumption data to forecast and forecast to PIRs automatically
Monitor and manage material coverage
Run Materials Requirements Planning (MRP) for materials with shortages
Evaluate the results of the MRP run
Hand over of purchase requisitions if needed (optional)
Display MRP run material issues and key figures
Detect and resolve MRP material exceptions
Benefits
Detect shortages quickly
Create purchase requisitions or scheduling lines to cover demand automatically
Get higher accuracy of purchased quantities
Do a hand over for the purchase requisition (optional)
Save costs through process automation
Detect and resolve MRP material exceptions
---
Where is Material Requirements Planning(J44) being used?
This Scope item is used in the following way:
As a core function of Production Planning within Manufacturing Scope Item Group
---
Process flow of Material Requirements Planning (J44)
Find below the process flow of the scope item Material Requirements Planning as it is defined for release S4H-OP-2009.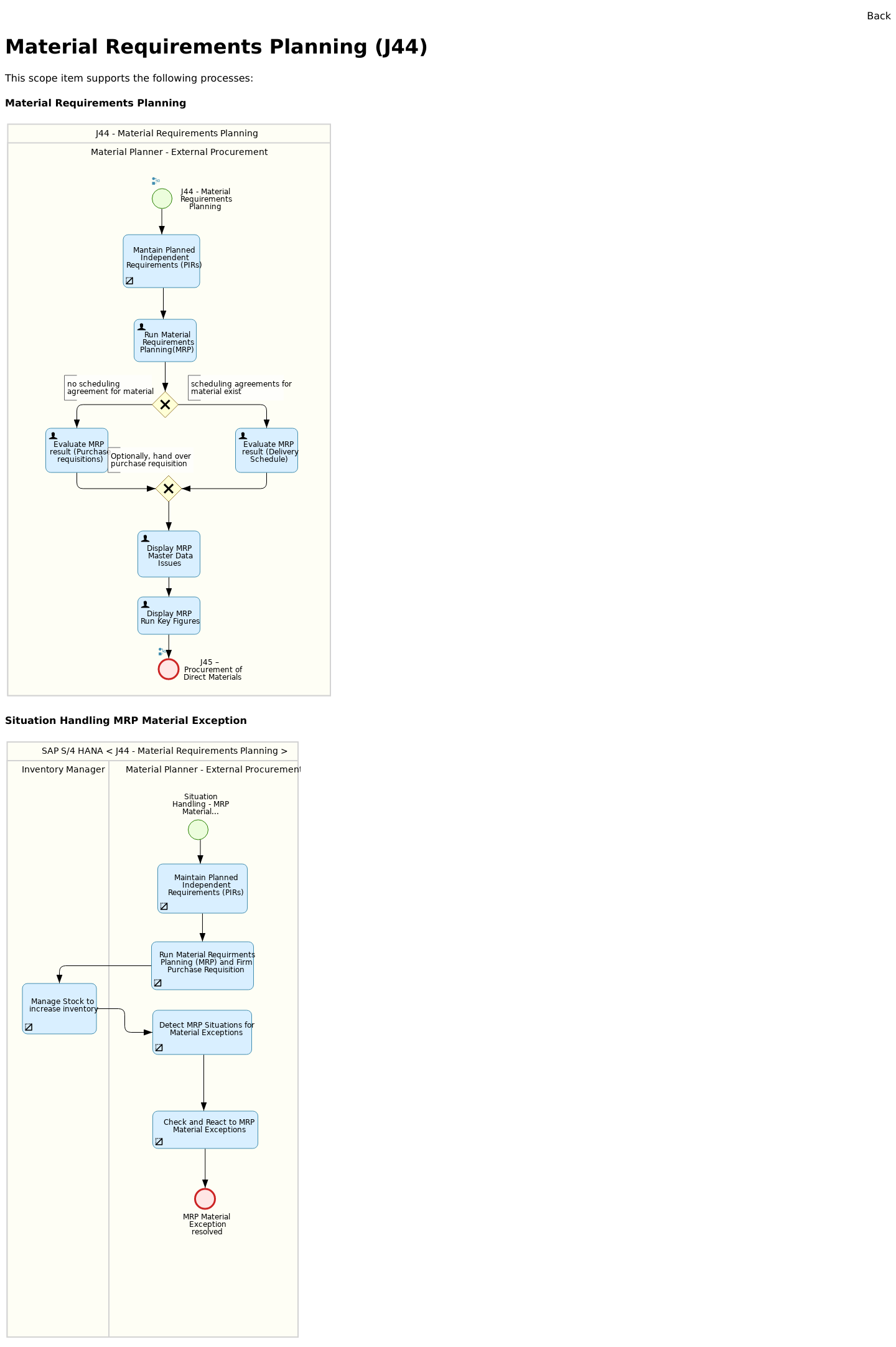 ---
Ref: Manufacturing of S4H-OP-2009
---
Best Practices related to S/4HANA
Best Practices of Robotics Process Automation(RPA) with SAP Leonardo *2
*1) Yearly Updates are released per September of each year
*2) The Quarterly updates are released per Februari, May, August and November
Details of future releases can be found in the SAP Roadmap section of each product. Go to SAP Roadmap Product Finder.
---
Knowledge Center Scheer Nederland | The Process Experts