This scope item describes the management of defects and nonconformances. The quality technician creates a defect record and if required, adds a picture that documents the defect. The quality engineer further processes the defect record by documenting or defining immediate, corrective, and preventive actions. The quality technician executes the defined actions and confirms processing by setting a respective status. After defect resolution, the quality engineer closes the defect record.
Furthermore, the quality engineer monitors and analyzes defect records from various sources (for example, defects detected during quality inspection or manually created defects) and deduces common preventive actions.
If required, the quality technician creates additional, manual inspection lots for the available inspection origins to perform additional quality inspections. After inspection results are captured, the quality engineer makes a usage decision to close the manual inspection process.
Key Process Steps Covered
Manage defects:
Record defect
Process defect and define quality task
Execute quality task and document outcome
Complete defect processing
Record defect using SAP Co-pilot
Assign defect to quality notification
Manual inspection process:
Create inspection lot
Record inspection results
Make usage decision
Benefits
Capture defects and nonconformances for documentation and for further processing
Decide whether a simple defect can be managed as generic defect or must be escalated to a quality notification for comprehensive processing
Execute quality tasks to mitigate or resolve the defect
Change quality tasks and defects using mass-processing
Capture status of quality task
Evaluate the defect data comprehensively
Define and execute additional manual quality inspections
---
Where is Nonconformance Management(2QN) being used?
This Scope item is used in the following way:
As a core function of Quality Management within Manufacturing Scope Item Group
---
Process flow of Nonconformance Management (2QN)
Find below the process flow of the scope item Nonconformance Management as it is defined for release S4H-OP-2009.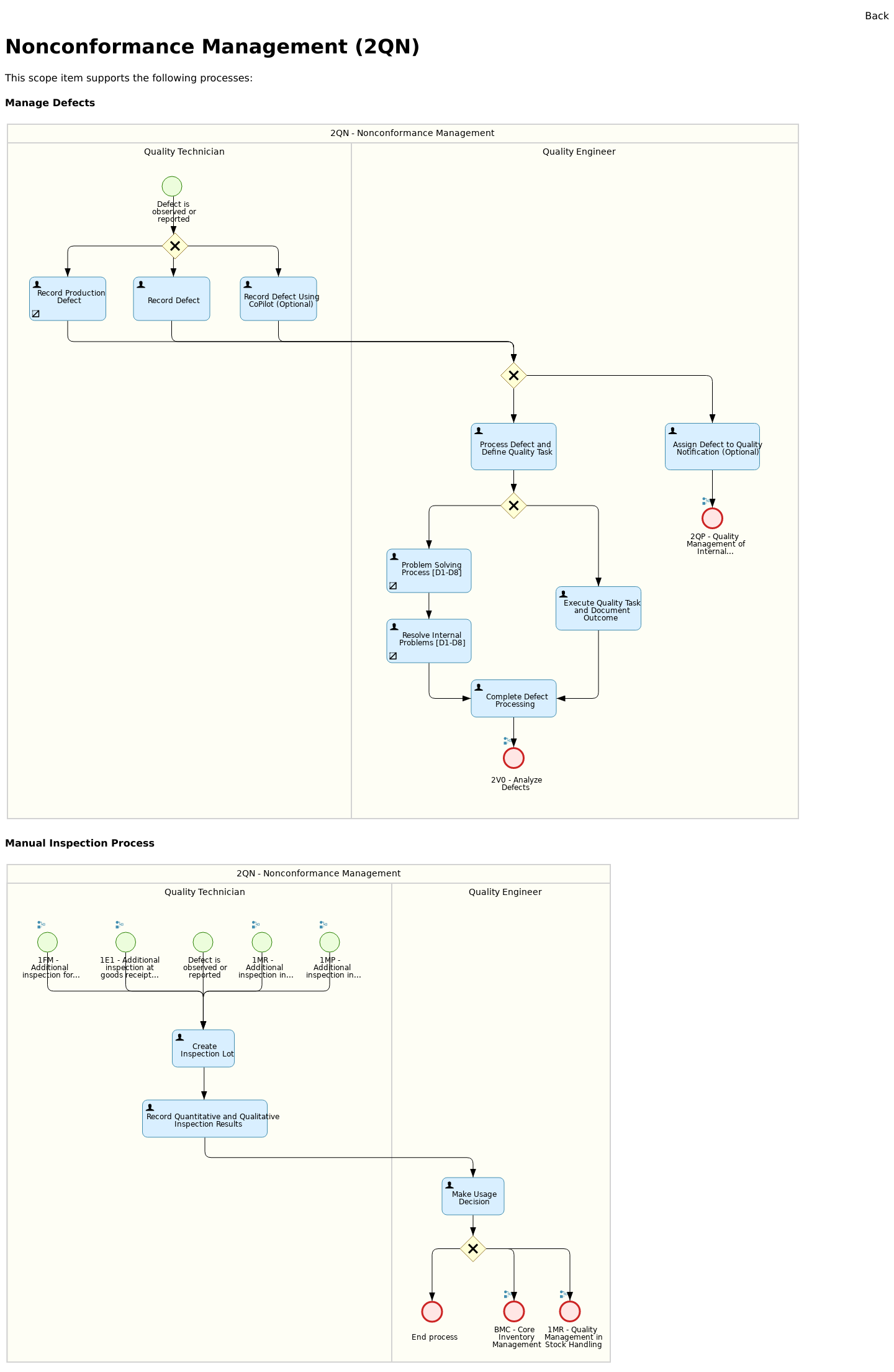 ---
Ref: Manufacturing of S4H-OP-2009
---
Best Practices related to S/4HANA
Best Practices of Robotics Process Automation(RPA) with SAP Leonardo *2
*1) Yearly Updates are released per September of each year
*2) The Quarterly updates are released per Februari, May, August and November
Details of future releases can be found in the SAP Roadmap section of each product. Go to SAP Roadmap Product Finder.
---
Knowledge Center Scheer Nederland | The Process Experts