Predictive Material and Resource Planning (pMRP) enables you to create, schedule, and evaluate pMRP simulations that support you in taking informed decisions for your production planning.
You can create and schedule pMRP simulations with your top-level demands and resource constraints. During the simulation creation, the system creates simplified data, based on your forecasted product demand and master data for material- and resource-planning, which is used as reference data in pMRP.
After the creation, you can process and evaluate your simulation. It´s ensured that the number of capacity issues and a delivery performance KPI are constantly up to date to enable you to compare your simulated changes so you can assess the impact of changes to your simulation.
Finally, after you decide which simulation is best for your production plan, you can take over the resulting component demand and release it to your operational data as planned independent requirements.
Key Process Steps Covered
Create planned independent requirements
Schedule pMRP simulation creation
Evaluate and process pMRP simulations
Check and (if desired) apply changes to planned independent requirements
Benefits
Simulate MRP runs to evaluate impacts of possible changes to production plans
Helps you create optimized production plans by giving the ability to make informed decisions for changes based on the simulations
---
Where is Predictive Material and Resource Planning(4B5) being used?
This Scope item is used in the following way:
As a core function of Production Planning within Manufacturing Scope Item Group
---
Process flow of Predictive Material and Resource Planning (4B5)
Find below the process flow of the scope item Predictive Material and Resource Planning as it is defined for release S4H-OP-2009.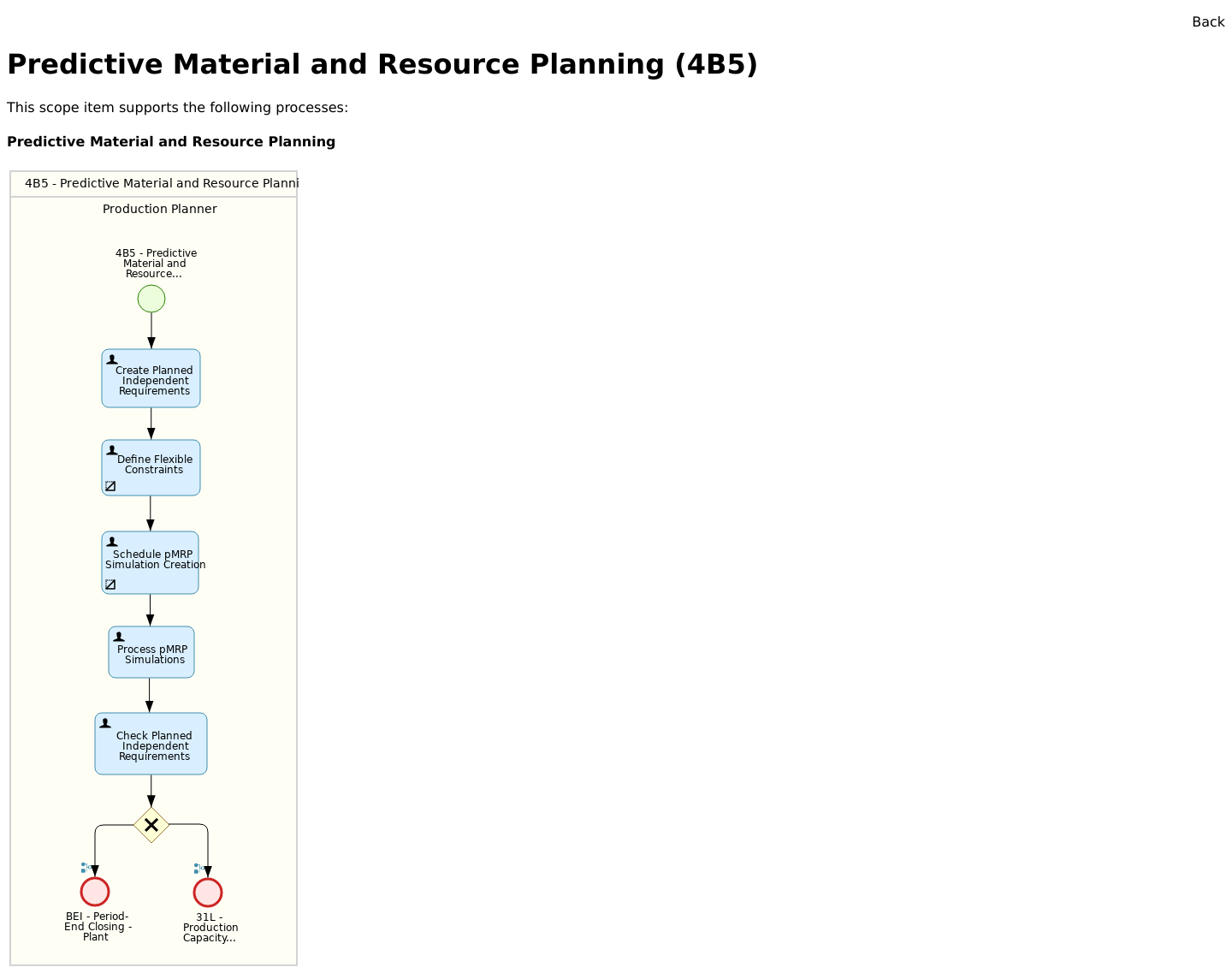 ---
Ref: Manufacturing of S4H-OP-2009
---
Best Practices related to S/4HANA
Best Practices of Robotics Process Automation(RPA) with SAP Leonardo *2
*1) Yearly Updates are released per September of each year
*2) The Quarterly updates are released per Februari, May, August and November
Details of future releases can be found in the SAP Roadmap section of each product. Go to SAP Roadmap Product Finder.
---
Knowledge Center Scheer Nederland | The Process Experts