This scope item enables quick capacity evaluation and planning for make-to-stock scenarios in Discrete and Process Manufacturing. You can determine the industry type selection and displayed data in the app settings.  
The process starts with the creation of a demand forecast for finished goods represented by Planned Independent Requirements (PIRs). Based on PIRs, Material Requirements Planning (MRP) creates a production plan for finished goods and explodes the entire bill of material structure.
As a result, semifinished component production and raw material demand is planned. All orders and operations that are planned with the MRP are allocated to the required capacities. Production planners can evaluate the capacity utilization for a defined time horizon and execute manual changes in orders to resolve upcoming bottleneck situations in the defined area of responsibility.
Key Process Steps Covered
Evaluate capacity load
Apply changes to available capacity to meet the production requirements
Benefits
Get overview and transparency of capacity load and critical situations
Gain insight into the KPIs on capacity load and backlog
View a graphical presentation of utilization per work center/resource
---
Where is Production Capacity Evaluation(31L) being used?
This Scope item is used in the following way:
As a core function of Production Planning within Manufacturing Scope Item Group
---
Process flow of Production Capacity Evaluation (31L)
Find below the process flow of the scope item Production Capacity Evaluation as it is defined for release S4H-OP-2009.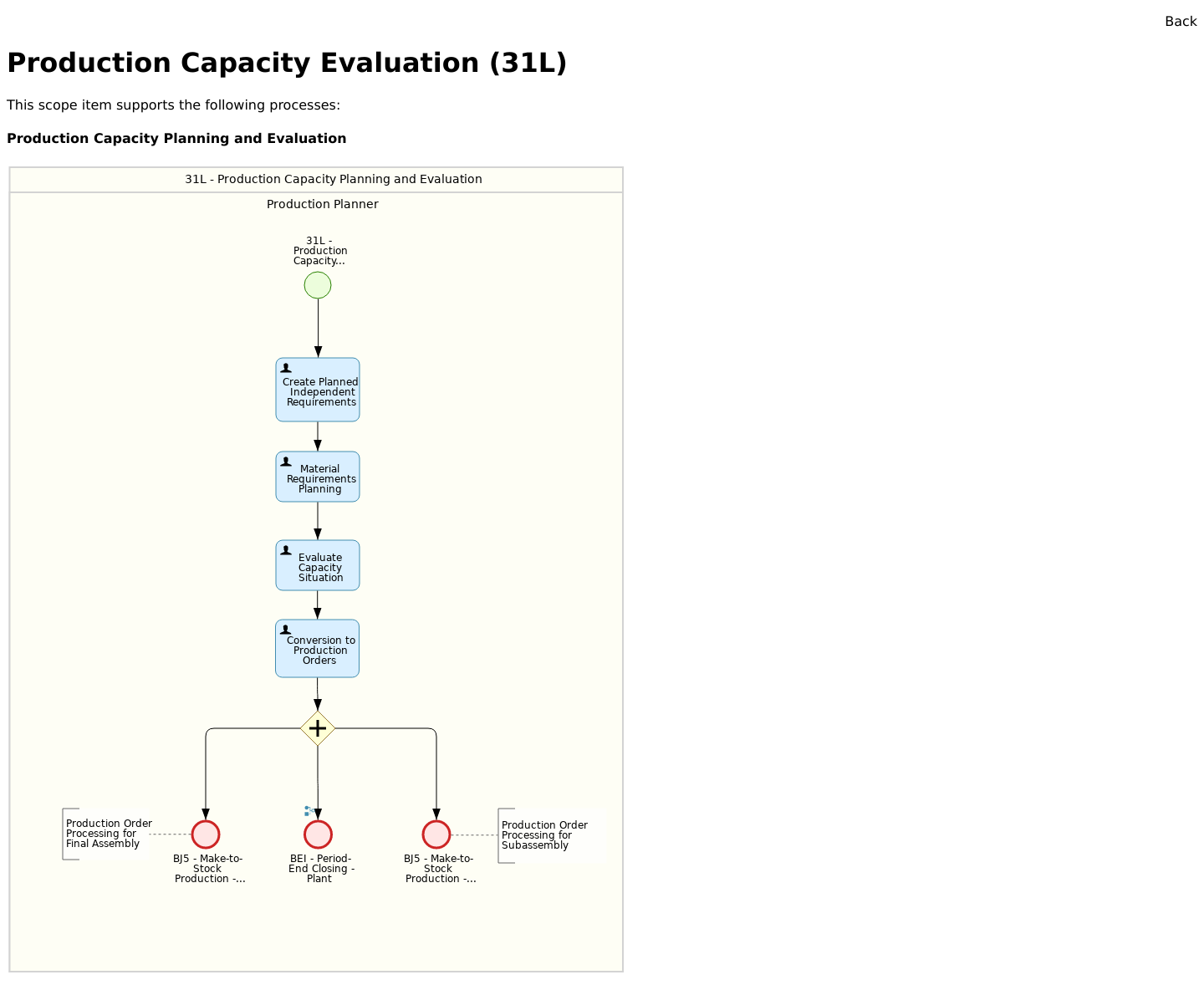 ---
Ref: Manufacturing of S4H-OP-2009
---
Best Practices related to S/4HANA
Best Practices of Robotics Process Automation(RPA) with SAP Leonardo *2
*1) Yearly Updates are released per September of each year
*2) The Quarterly updates are released per Februari, May, August and November
Details of future releases can be found in the SAP Roadmap section of each product. Go to SAP Roadmap Product Finder.
---
Knowledge Center Scheer Nederland | The Process Experts