This scope item demonstrates the option to execute an operation externally within a production order. This type of processing is particularly important as it provides a company with a feasible alternative to in-house processing if capacity bottlenecks occur. During the manufacturing process, when a planned order for production is converted to a production order, the system checks if any routing or work center operations require external processing. When the order is processed and the operation to be handled externally is reached, the system creates a purchase requisition. After generating a purchase order for the operation, the production step is processed by the external subcontractor. The external service is captured with a goods receipt posting. The process is finalized by receiving the subcontractor's invoice for the service and posting the payment accordingly.
Key Process Steps Covered
Create production order with subcontract operation
Create purchase order for external processing of services
Post goods receipt for subcontracted services
Enter incoming vendor invoice and process payment
Benefits
Certain operations of the production order can be specified for execution by an external subcontractor
In the case of capacity bottlenecks, the assembly procedure of the finished product can be assigned to a subcontractor
---
Where is Production Subcontracting – External Processing(BJK) being used?
This Scope item is used in the following way:
As a core function of Production Operations within Manufacturing Scope Item Group
---
Process flow of Production Subcontracting – External Processing (BJK)
Find below the process flow of the scope item Production Subcontracting – External Processing as it is defined for release S4H-OP-2009.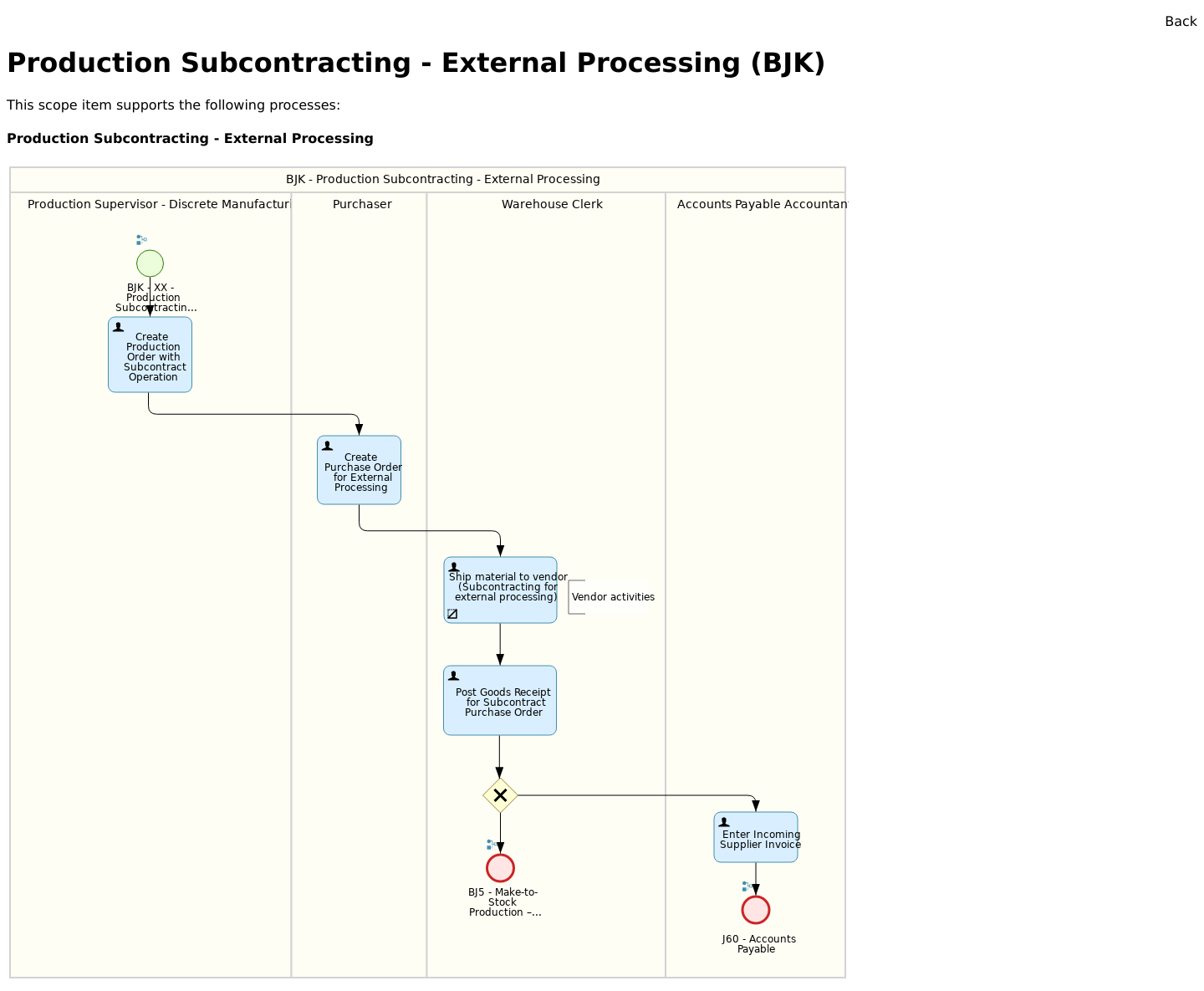 ---
Ref: Manufacturing of S4H-OP-2009
---
Best Practices related to S/4HANA
Best Practices of Robotics Process Automation(RPA) with SAP Leonardo *2
*1) Yearly Updates are released per September of each year
*2) The Quarterly updates are released per Februari, May, August and November
Details of future releases can be found in the SAP Roadmap section of each product. Go to SAP Roadmap Product Finder.
---
Knowledge Center Scheer Nederland | The Process Experts