This scope item describes the management of internal problems, for example, deviations observed during production or storage of goods.
Leveraging quality notifications, the quality engineer can capture all problem-related information. Further immediate actions can be captured for documentation purposes. To identify the root cause of the complaint, the quality engineer starts a root cause analysis. After having identified the error and the related root cause, the quality engineer classifies this information using code groups, codes, and free text information.
The quality engineer defines corrective and preventive actions either globally at notification level or per defect. The quality engineer assigns one processor to each action. The action is processed and action processors give feedback per action.
Finally, the quality engineer reviews each action and closes the notification.
Key Process Steps Covered
Create quality notification with basic data
Capture defects, define root cause analysis, and document immediate actions
Define corrective actions
Execute root cause analysis and corrective actions, and document outcome
Review root cause analysis and document root cause, review corrective actions
Define preventive actions
Execute preventive actions and document outcome
Review preventive actions
Complete quality notification
Benefits
Capture problem details, related defects, causes, and activities in one place
Manage different types of activities (for example immediate, corrective, and preventive actions)
Assign a person responsible to each action and track action status and outcome
---
Where is Quality Management of Internal Problems(2QP) being used?
This Scope item is used in the following way:
As a core function of Quality Management within Manufacturing Scope Item Group
---
Process flow of Quality Management of Internal Problems (2QP)
Find below the process flow of the scope item Quality Management of Internal Problems as it is defined for release S4H-OP-2009.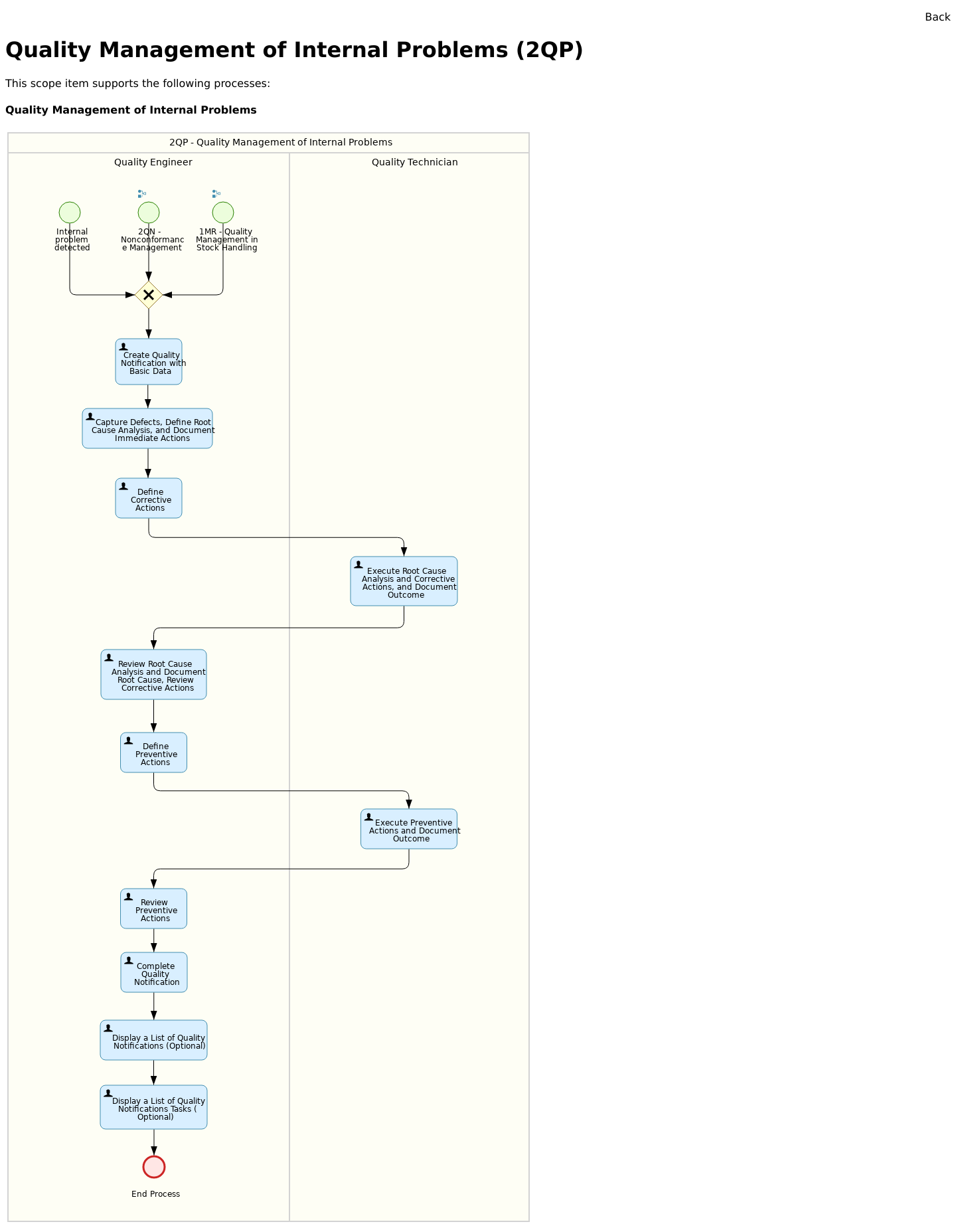 ---
Ref: Manufacturing of S4H-OP-2009
---
Best Practices related to S/4HANA
Best Practices of Robotics Process Automation(RPA) with SAP Leonardo *2
*1) Yearly Updates are released per September of each year
*2) The Quarterly updates are released per Februari, May, August and November
Details of future releases can be found in the SAP Roadmap section of each product. Go to SAP Roadmap Product Finder.
---
Knowledge Center Scheer Nederland | The Process Experts