This scope item focuses on a rework process within production. All required rework activities are related to the production order. For this reason, defects are recognized and corrections are initiated, such as insertion of a rework operation within the same production order. The additional rework operation is confirmed and settled within the production order, causing production variances within controlling and price differences for the dedicated product.
Key Process Steps Covered
Confirm production activities
Confirm scrap for defective material and material that can be reused
Confirm production order at rework operation
Continue shop-floor activities
Benefits
Trigger the rework process automatically with a material in a defined operation
Confirm additional activity and material consumption after rework
Integrate rework processing fully in the production process
---
Where is Rework Processing – Work-in-Process(BJQ) being used?
This Scope item is used in the following way:
As a core function of Production Operations within Manufacturing Scope Item Group
---
Process flow of Rework Processing – Work-in-Process (BJQ)
Find below the process flow of the scope item Rework Processing – Work-in-Process as it is defined for release S4H-OP-2009.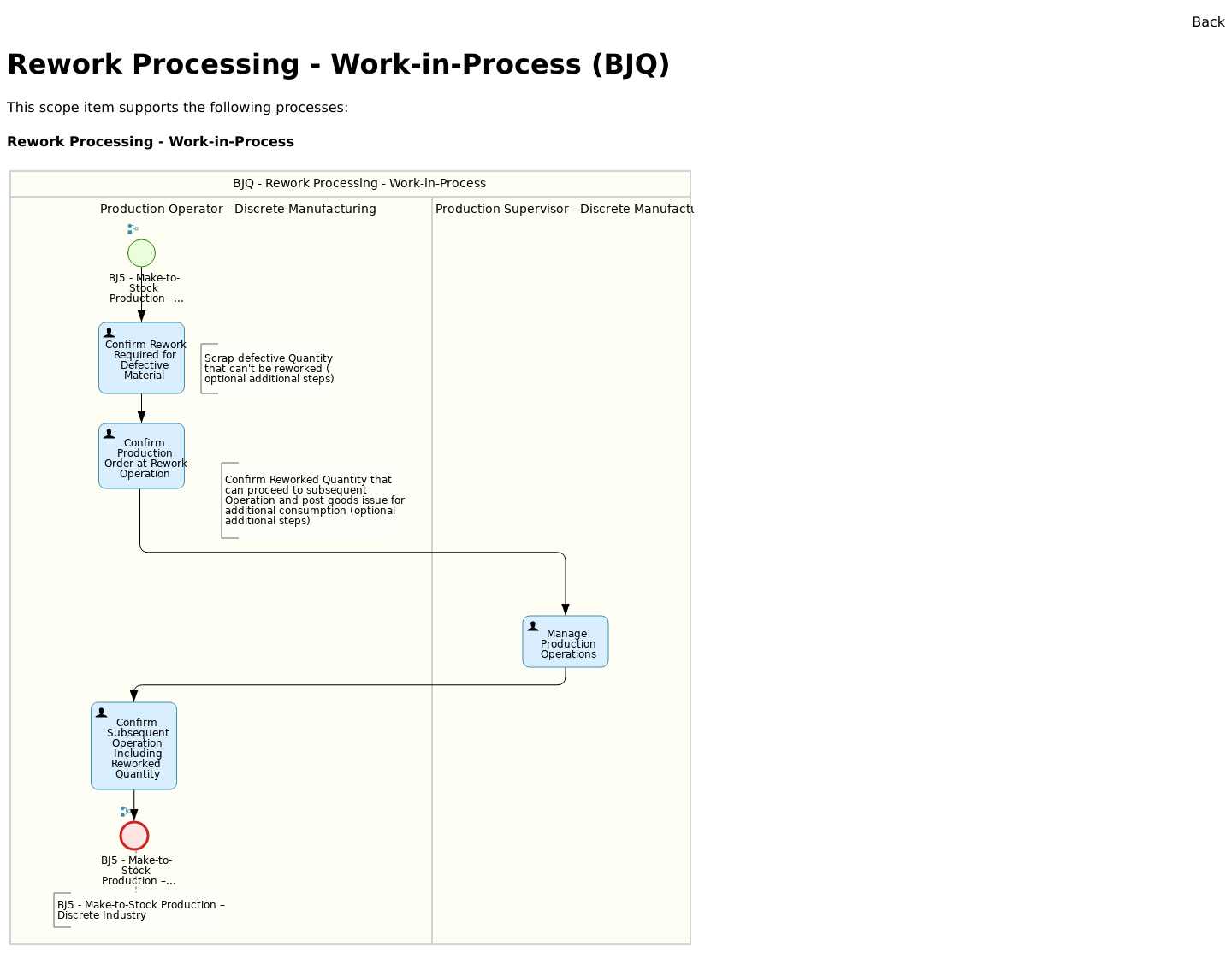 ---
Ref: Manufacturing of S4H-OP-2009
---
Best Practices related to S/4HANA
Best Practices of Robotics Process Automation(RPA) with SAP Leonardo *2
*1) Yearly Updates are released per September of each year
*2) The Quarterly updates are released per Februari, May, August and November
Details of future releases can be found in the SAP Roadmap section of each product. Go to SAP Roadmap Product Finder.
---
Knowledge Center Scheer Nederland | The Process Experts