This scope item provides overview pages for the quality technician and the quality engineer. The quality engineer overview page displays important information and tasks related to quality inspection management with a focus on usage decisions (for example, inspection lots without usages decisions, or lots that are ready for usage decision), defects (for example, top defective materials, inspection lots with defects), action limits, quality levels, and quality tasks. The quality technician overview page focuses on processing of the inspection lot, executing the quality inspection, and processing of quality tasks. Further apps for the detailed analysis of the past and current quality situation are provided: You can analyze accepted and rejected inspection lots or inspection characteristics with respect to different KPIs and drill down by accounting for additional parameters. Defects and results history can be analyzed to deduce measures to improve the current quality situation.
Key Process Steps Covered
Provide overviews for quality engineer and quality technician
Analyze accepted and rejected lots
Analyze skipped and non-skipped lots
Analyze inspection lots leveraging inspection lot detailed analytics
Analyze inspection characteristics
Analyze inspection characteristics leveraging inspection characteristic detailed analytics
Manage defects
Display results history
Display quality level history
Manage control charts
Manage quality tasks
Benefits
Provide a dashboard of information for quality engineer or quality technician to perform their daily activities smoothly
Provide high-level insights for the quality engineer to understand key figures and drill down to act on a variety of inspection-related information
Provide tools to analyze the past and current defect situation and inspection results to identify areas for improvement
---
Where is SAP Fiori Analytical Apps for Quality Management(2V0) being used?
This Scope item is used in the following way:
As a core function of Quality Management within Manufacturing Scope Item Group
---
Process flow of SAP Fiori Analytical Apps for Quality Management (2V0)
Find below the process flow of the scope item SAP Fiori Analytical Apps for Quality Management as it is defined for release S4H-OP-2009.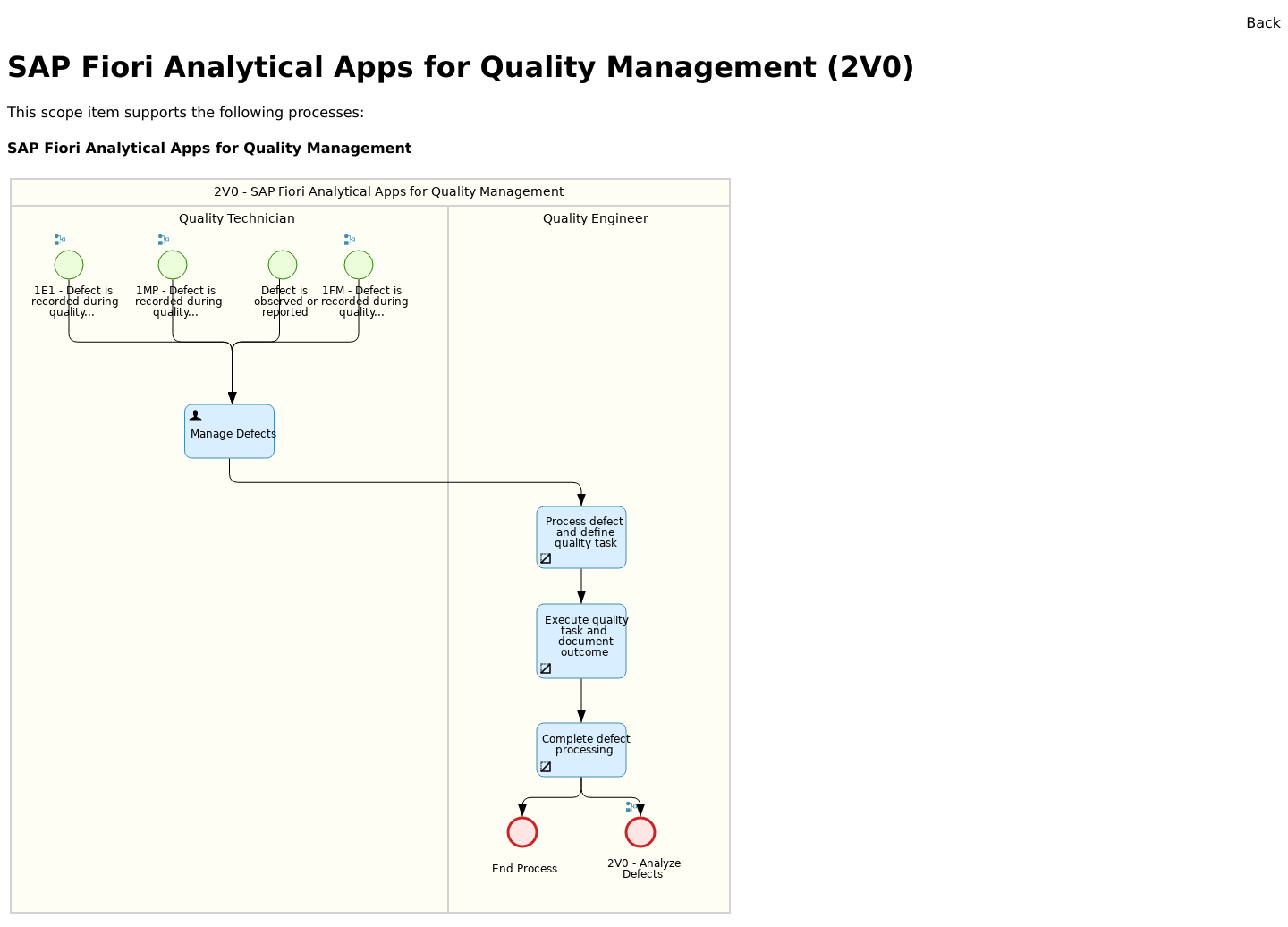 ---
Ref: Manufacturing of S4H-OP-2009
---
Best Practices related to S/4HANA
Best Practices of Robotics Process Automation(RPA) with SAP Leonardo *2
*1) Yearly Updates are released per September of each year
*2) The Quarterly updates are released per Februari, May, August and November
Details of future releases can be found in the SAP Roadmap section of each product. Go to SAP Roadmap Product Finder.
---
Knowledge Center Scheer Nederland | The Process Experts