The process starts with creation of a filling process order based on an internal or external requirement.
As a prerequisite, the tank trailer with a dedicated container ID should be weighed and the existing residual quantity should be posted to a separate residual storage location. This residual stock is considered during the subsequent filling process for the same container ID. 
Using container ID as a reference batch characteristic, the batch and quantity of residual stock for the specific container ID is determined for the process order using batch determination.
The net quantity of manufactured product to be filled into the tank trailer is calculated by deducting the residual material that was already present in the tank from the total filling order quantity. A simple material quantity calculation formula is used for this purpose. The appropriate batches are selected using batch determination.
The filling process order is executed to complete the tank trailer filling process.
Key Process Steps Covered
Create process order with batch for tank trailer filling
Assign container ID to process order batch
Perform batch determination of the materials to be filled at process order level
Calculate material quantity of the filling quantity of the material from silo
Perform goods issue of the material to be filled and the residue from the residual storage location
Confirm the process order
Perform goods receipt for the process order
Benefits
Take accurate account of the quantity of existing residuals in the tank trailer during filling
---
Where is Tank Trailer Filling with Residuals(42N) being used?
This Scope item is used in the following way:
As a core function of Production Operations within Manufacturing Scope Item Group
---
Process flow of Tank Trailer Filling with Residuals (42N)
Find below the process flow of the scope item Tank Trailer Filling with Residuals as it is defined for release S4H-OP-2009.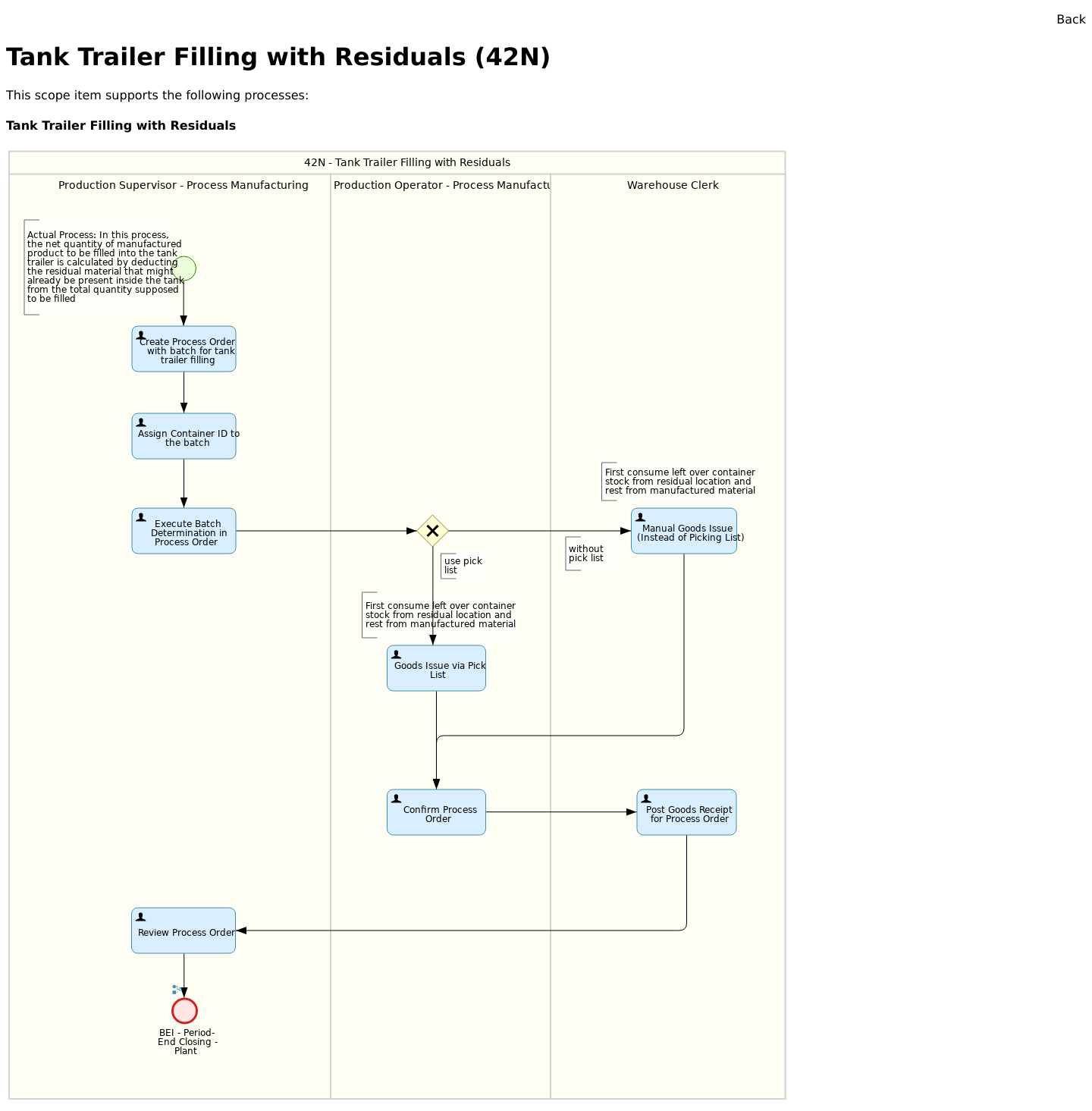 ---
Ref: Manufacturing of S4H-OP-2009
---
Best Practices related to S/4HANA
Best Practices of Robotics Process Automation(RPA) with SAP Leonardo *2
*1) Yearly Updates are released per September of each year
*2) The Quarterly updates are released per Februari, May, August and November
Details of future releases can be found in the SAP Roadmap section of each product. Go to SAP Roadmap Product Finder.
---
Knowledge Center Scheer Nederland | The Process Experts