Event-based Revenue Recognition calculates and posts real-time revenue and cost adjustment for professional services for fixed price, time and material, and periodic service projects, using US GAAP Ledger functionality. Revenue recognition is either cost-based or time-based depending on the project type.
Processes that do not write a prima nota do not result in any real-time revenue recognition postings (for example, changes of plan data do not directly result in revenue recognition postings). If necessary, period-end closing postings (periodic revenue recognition) correct the event-based postings. This scope item covers best guess reporting, as figures are only correct after period-end closing.
Event-based Revenue Recognition also supports bundling, revenue calculation, and posting in the context of ASC 606. For more information, see SAP Note 2524569.
Key Process Steps Covered
Monitor event-based revenue recognition for projects
Manage real-time revenue recognition issues
Run revenue recognition for projects in period-end closing
Manage revenue recognition issues for projects
Report project actuals
Report project WIP details (relevant only for time & material projects)
Allocate the revenue (relevant for bundled projects only)
Inspect revenue recognition postings
Benefits
Significant change in the underlying method of revenue recognition (available in SAP S/4HANA)
Adjustment for imminent loss, anticipated sales deductions, and unrealized costs
Run a simulation. In this app, you can view important project KPIs via semantic tags
After period-end closing, the posted values are fully correct, and no separate settlement is required
Additional Information
This scope item is excluded from the default activation
All starter, demo, and trial systems are by default setup with group ledger IFRS. This scope item is therefore excluded.  Customers can decide to use this scope items in the Q- and P-system based on the selected scope bundle.
---
Where is Event-Based Revenue Recognition – Project-Based Services – US GAAP(33O) being used?
This Scope item is used in the following way:
As a support function of Accounting and Financial Close within Finance Scope Item Group
As a core function of General within Professional Services Scope Item Group
---
Process flow of Event-Based Revenue Recognition – Project-Based Services – US GAAP (33O)
Find below the process flow of the scope item Event-Based Revenue Recognition – Project-Based Services – US GAAP as it is defined for release s4hc-2108.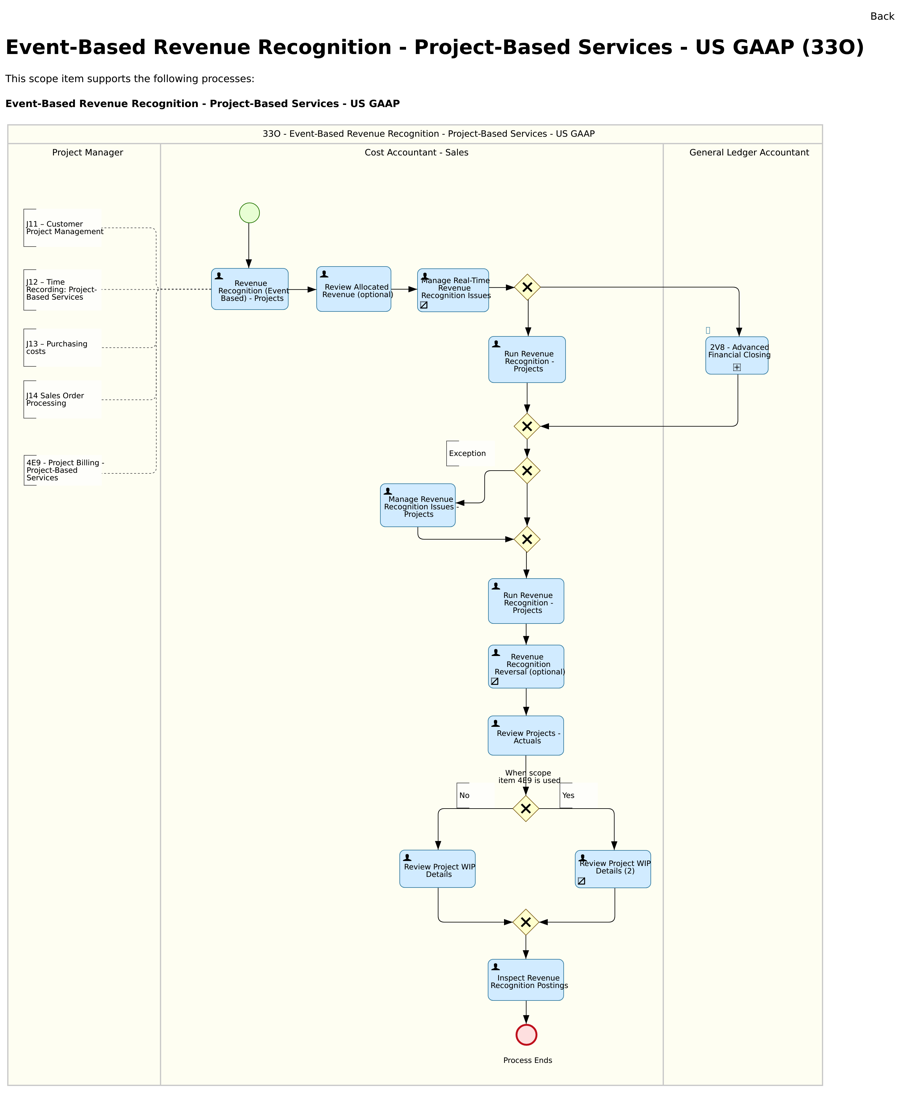 ---
Ref: Professional Services of SAP S4HC-2108
---
Best Practices related to S/4HANA
Best Practices of Robotics Process Automation(RPA) with SAP Leonardo *2
*1) Yearly Updates are released per September of each year
*2) The Quarterly updates are released per Februari, May, August and November
Details of future releases can be found in the SAP Roadmap section of each product. Go to SAP Roadmap Product Finder.
---
Knowledge Center Scheer Nederland | The Process Experts
Visit also the SAP Cloud ERP knowledge center of Scheer Netherlands. The following topics are covered: