A company has an affiliate company. The affiliate company delivers a service to the ordering company in the course of a customer project. The affiliate company posts expenses and records time on the project. These expenses are transformed into debit memo requests. An intercompany invoice with reference to the debit memo request is created by the delivering company.  The intercompany invoice is posted automatically also to the accounts payables of the ordering company.
Key Process Steps Covered
Create debit memo requests for intercompany billing based on intercompany travel postings and time confirmation from the delivering company
Create billing document (intercompany invoice)
Post intercompany invoice automatically from company to accounts payables of ordering company
Benefits
Automate intercompany (IC) process with transfer prices
Additional Information
This scope item is excluded from the default activation
This intercompany scope item requires additional manual set-up steps. If you request this scope item, see the set-up instructions in the SAP Best Practices Explorer.
---
Where is Intercompany Processes – Project-Based Services(16T) being used?
This Scope item is used in the following way:
As a core function of General within Professional Services Scope Item Group
---
Process flow of Intercompany Processes – Project-Based Services (16T)
Find below the process flow of the scope item Intercompany Processes – Project-Based Services as it is defined for release s4hc-2108.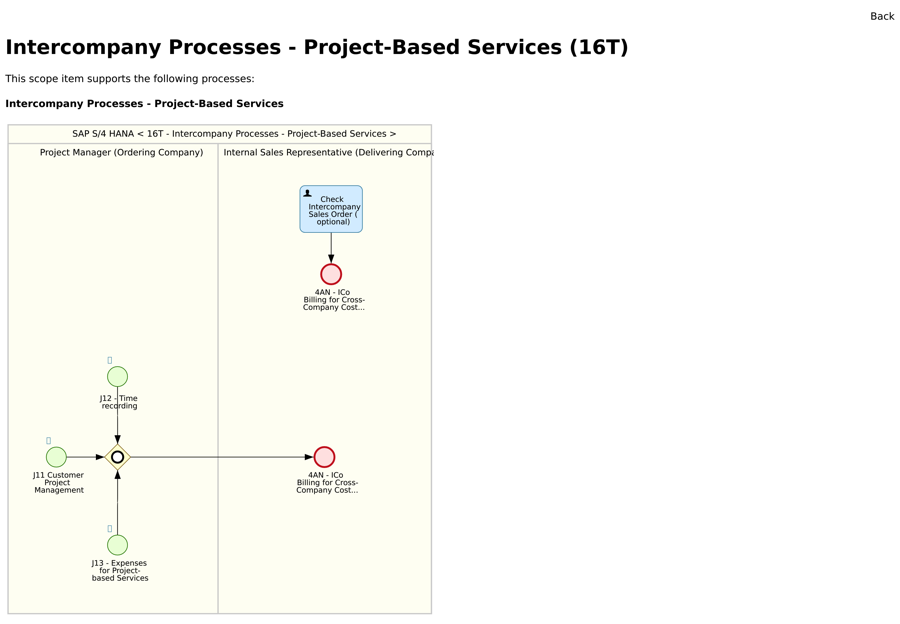 ---
Ref: Professional Services of SAP S4HC-2108
---
Best Practices related to S/4HANA
Best Practices of Robotics Process Automation(RPA) with SAP Leonardo *2
*1) Yearly Updates are released per September of each year
*2) The Quarterly updates are released per Februari, May, August and November
Details of future releases can be found in the SAP Roadmap section of each product. Go to SAP Roadmap Product Finder.
---
Knowledge Center Scheer Nederland | The Process Experts
Visit also the SAP Cloud ERP knowledge center of Scheer Netherlands. The following topics are covered: