Internal Project Management manages the complete end-to-end process of project-based services inside the company. This scope item realizes the main steps of the end-to-end scenario for Project-Based Services focusing on internal project management and costs. It integrates project planning and staffing with core project management functionalities, procurement processes for materials and services, and time recording against the project work items. During period-end closing activities, accounting and financial close activities can be performed. This scope item also supports the analysis of project key figures.
Key Process Steps Covered
Manage internal projects during planning and execution phase
Maintain work package staffing of internal project
Procure external services for internal project
Record times for internal project
Analyze internal projects
Perform accounting and financial close activities
Perform period end closing activities
Benefits
Define and manage projects easily
Staff projects intuitively
Integrate SuccessFactors Employee Central natively
Perform employee time entry for all project members
Decide quickly with cross-project and client reporting
Drill-down flexibly to all project-related analytics and KPI's
Perform fast periodic closing, with no reconciliation
Make predefined processes and business content available
Create a baseline of an internal project and compare it with the current one
---
Where is Internal Project Management – Project-Based Services(1A8) being used?
This Scope item is used in the following way:
As a core function of General within Professional Services Scope Item Group
---
Process flow of Internal Project Management – Project-Based Services (1A8)
Find below the process flow of the scope item Internal Project Management – Project-Based Services as it is defined for release s4hc-2108.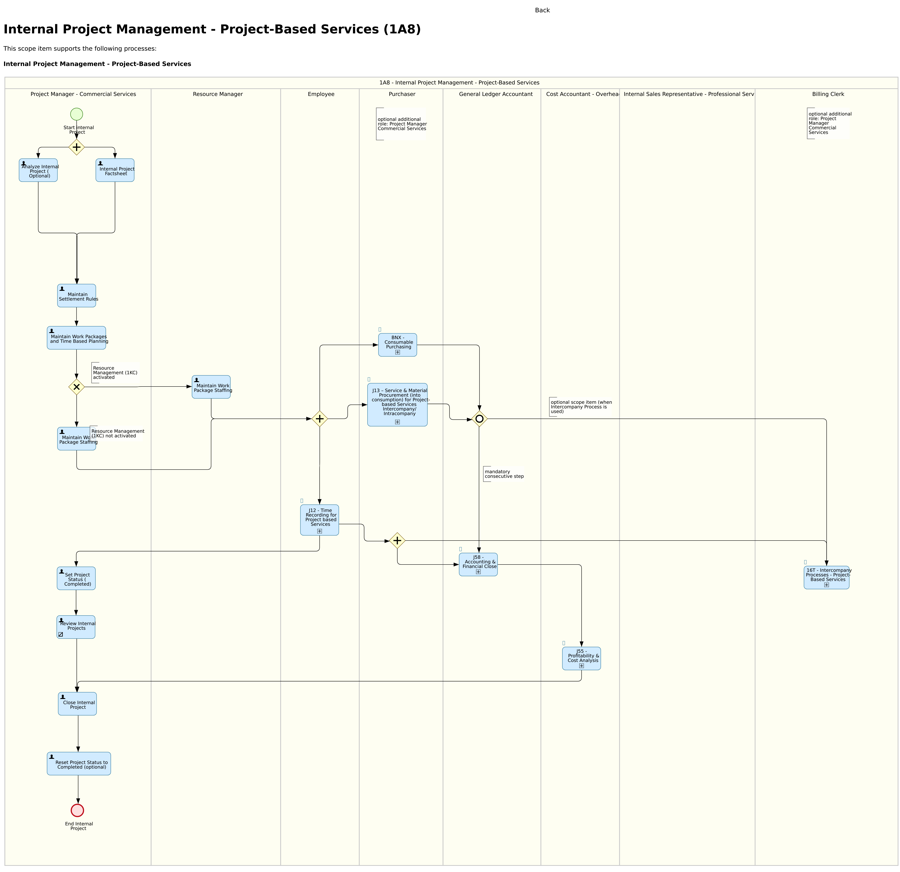 ---
Ref: Professional Services of SAP S4HC-2108
---
Best Practices related to S/4HANA
Best Practices of Robotics Process Automation(RPA) with SAP Leonardo *2
*1) Yearly Updates are released per September of each year
*2) The Quarterly updates are released per Februari, May, August and November
Details of future releases can be found in the SAP Roadmap section of each product. Go to SAP Roadmap Product Finder.
---
Knowledge Center Scheer Nederland | The Process Experts
Visit also the SAP Cloud ERP knowledge center of Scheer Netherlands. The following topics are covered: