A credit memo request is created against a service process (such as a service contract) with the amount to be credited; the request is placed for approval. Once reviewed and approved, a credit memo is created, sent to the customer, and posted to a journal entry.
Key Process Steps Covered
Create credit memo request against a service process
Approve and review workflow for credit memo requests
Create credit memo
Benefits
Integrate credit memo processing in the system for service processes
---
Where is Credit Memo Processing for Service Management(4GG) being used?
This Scope item is used in the following way:
As a core function of Service Operations & Processes within Service Scope Item Group
---
Process flow of Credit Memo Processing for Service Management (4GG)
Find below the process flow of the scope item Credit Memo Processing for Service Management as it is defined for release s4hc-2108.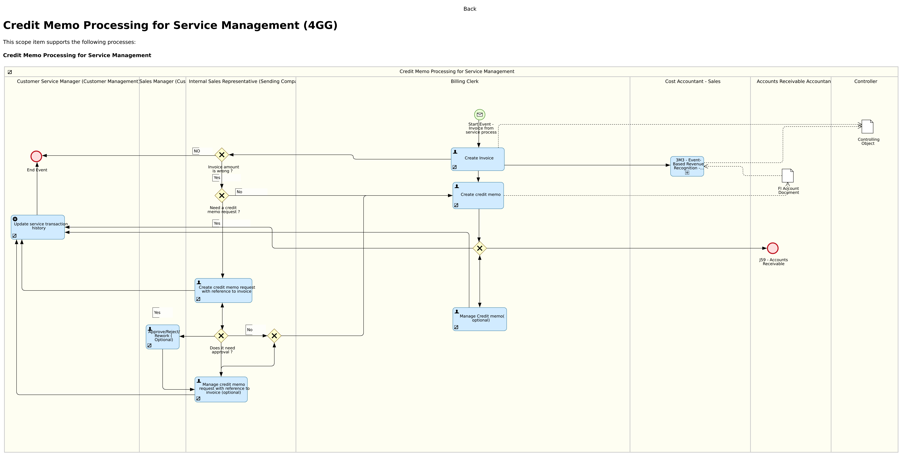 ---
Ref: Service of SAP S4HC-2108
---
Best Practices related to S/4HANA
Best Practices of Robotics Process Automation(RPA) with SAP Leonardo *2
*1) Yearly Updates are released per September of each year
*2) The Quarterly updates are released per Februari, May, August and November
Details of future releases can be found in the SAP Roadmap section of each product. Go to SAP Roadmap Product Finder.
---
Knowledge Center Scheer Nederland | The Process Experts
Visit also the SAP Cloud ERP knowledge center of Scheer Netherlands. The following topics are covered: