This scope item covers the creation of maintenance plans in SAP S/4HANA Cloud, as well as scheduling and service order creation. Maintenance plans can be set up to release the service order automatically when you create the service order or let the user release the order manually afterwards. Service order items are copied from the service order templates that are assigned to maintenance items in the maintenance plan. A released Service contract item (Scope item 3MO) and Service order template (Scope item 3D2) is the prerequisite for this scope item.
The Service Order Management (Scope item 3D2) is the follow-on process for further processing the Service order such as planning, releasing, time and material confirmation, billing, and order completion.
The completion date is updated automatically in the maintenance plan either upon completion of service order or manually by the user. Updating the measuring counter reading is an optional step during confirmation.
Key Process Steps Covered
Create maintenance plan
Schedule maintenance plan (individual/mass)
Create a service order
Assign service team (optional)
Release service order line items (optional)
Change service order (optional)
Release service order
Receive confirmation against the service order
Post the time sheet against the service technician and expenses incurred automatically based on the confirmation
Cancel the confirmation along with the follow-up documents (optional)
Release the service order (for fixed-price services) or confirmation (for time and material services) for billing and automatic creation of billing document request
Copy procurement costs automatically in the confirmation, based on posted supplier invoice or purchase order for billing to the customer for time and material services
Create a billing document from the billing document request for invoicing the customer
Analyze service order fulfillment (optional)
Update measuring counter reading (optional)
Benefits
Provide the functionality for regular maintenance planning and scheduling
Cover single cycle time / counter-based and multicounter plans
Support individual scheduling and mass scheduling via background jobs to trigger service orders with or without release
Provide the functionality for planning and execution of services
Post time-sheet and expenses automatically based on the confirmation
---
Where is Recurring Services(4X5) being used?
This Scope item is used in the following way:
As a core function of Service Operations & Processes within Service Scope Item Group
---
Process flow of Recurring Services (4X5)
Find below the process flow of the scope item Recurring Services as it is defined for release s4hc-2108.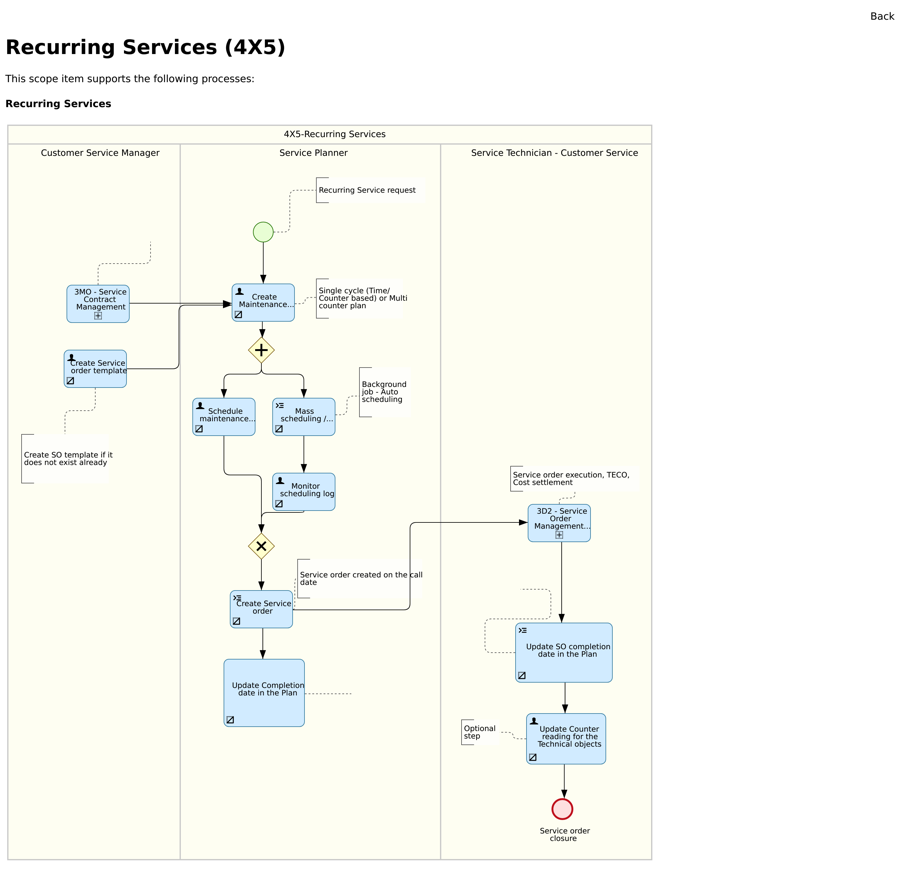 ---
Ref: Service of SAP S4HC-2108
---
Best Practices related to S/4HANA
Best Practices of Robotics Process Automation(RPA) with SAP Leonardo *2
*1) Yearly Updates are released per September of each year
*2) The Quarterly updates are released per Februari, May, August and November
Details of future releases can be found in the SAP Roadmap section of each product. Go to SAP Roadmap Product Finder.
---
Knowledge Center Scheer Nederland | The Process Experts
Visit also the SAP Cloud ERP knowledge center of Scheer Netherlands. The following topics are covered: