This scope item covers the service quotation process in SAP S/4HANA Cloud. The service quotations are used to provide legally binding offers with fixed conditions made to a customer for the performance of services.
Customer Service managers may use quotations to provide cost estimates before placing an order. Both Time and Material (T&M) and Fixed Price cost estimates are supported with validity period. The validity period of the service quotation can be changed by the customer service manager with an option to carry out repricing as per the new validity.
Upon finalizing the service quote with required services and price offered, the customer service manager can either print or generate the quote as a PDF, then attach it to an email to be sent to customer for negotiation.
The service quote can then be set to Accepted or Rejected. Finally, the service quote acceptance triggers the automatic creation of service orders as a follow-on process
Key Process Steps Covered
Create or change service quotation
Include service items, external service Items, and pick-from-stock items, service bundles (fixed-price/time and material), mixed service bundle (both fixed-price and time and material items within T&M quotation) in quotation items
Send service quotation to customer
Review service quotation (change or update)
Attach necessary documents in quotation
Accept service quotation
Trigger service order (automatically)
Reject service quotation
Benefits
Share cost estimates for the services chosen by the customer (both time-and-material and fixed-price)
Negotiate, accept, or reject the quotation with reason (including partial acceptance)
Support repricing of the quotation after the expiry of validity period
Provide options to customer through output control to either print or generate the quote as a PDF and attach it to an email
Support automatic creation of the service order based on service quotation acceptance
---
Where is Service Quotation(4GA) being used?
This Scope item is used in the following way:
As a core function of Service Operations & Processes within Service Scope Item Group
---
Process flow of Service Quotation (4GA)
Find below the process flow of the scope item Service Quotation as it is defined for release s4hc-2108.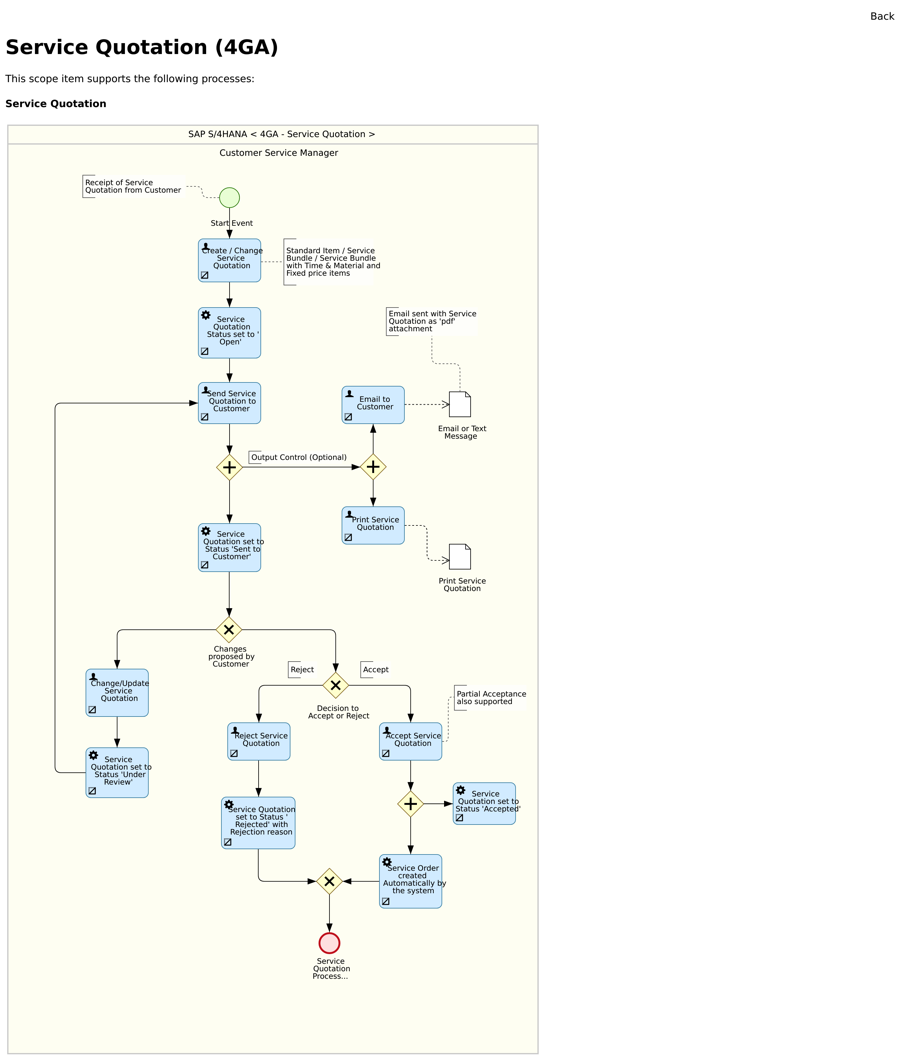 ---
Ref: Service of SAP S4HC-2108
---
Best Practices related to S/4HANA
Best Practices of Robotics Process Automation(RPA) with SAP Leonardo *2
*1) Yearly Updates are released per September of each year
*2) The Quarterly updates are released per Februari, May, August and November
Details of future releases can be found in the SAP Roadmap section of each product. Go to SAP Roadmap Product Finder.
---
Knowledge Center Scheer Nederland | The Process Experts
Visit also the SAP Cloud ERP knowledge center of Scheer Netherlands. The following topics are covered: